The 10 best Creole desserts in New Orleans that you absolutely need in your belly right now.
In New Orleans we have a thing with food. We like a lot of it, as decadent as possible, yes please. One thing that is often overlooked in the NOLA food culture is dessert — especially our amazingly rich Creole desserts. Sure, people know we have the French and Creole staples of everything else, but dessert always flies under the radar.
So you know exactly where to go for a classic dessert, we put together a list of the top 10 Creole desserts in NOLA.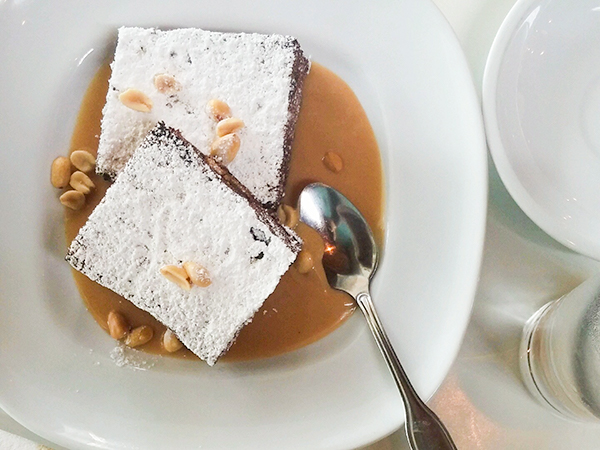 1. Bread Pudding Beignets At Wayfare
I put this at the top of the list because the bread pudding beignet at Wayfare is my top favorite dessert in New Orleans. The beignet part is a bit of a misnomer, FYI. It's not so much a beignet as it is fried bread pudding. It's served with a peanut sauce instead of the traditional whiskey sauce, giving it more of a Creole desserts type flair than traditional southern. Basically if you are looking for an incredibly decadent sugar coma, you've found it here.
2. Pralines At Southern Candymakers
Or really, at any praline shop on nearly every corner in the French Quarter. If you like sugar, butter and pecans, you'll love pralines. Almost every praline shop has samples available so you can taste test until you find just the right praline flavor. I'm a big fan of chocolate pralines, myself. When you go into the shop, see if they have a demonstration available – freshly made, still warm pralines are absolute heaven.
3. Bananas Foster At Commander's Palace
Honestly, I can't see a reason why you wouldn't want alcohol soaked flaming bananas. Served with vanilla ice cream, the bananas foster at Commander's Palace is done as a table side flambé. So really, when you get this dessert, it's dinner and a show!
4. Pecan Pie From Windowsill Pies
You can find Windowsill Pies at a few different restaurants in NOLA and at Whole Foods. Their unbelievalbe pecan pie is made with vanilla beans and bourbon. Adding in vanilla beans isn't traditional with a pecan pie but it just adds that special something to make this pie amazing.
5. Doberge Cake At Debbie Does Doberge
A doberge cake is basically layer upon layer of cake, pudding, buttercream icing, all wrapped up in fondant. Usually this cake is either chocolate or lemon (my favorite) but at Debbie Does Doberge, a whole shop dedicated to this old school delicacy, you can get pretty much any flavor you imagine. From more traditional flavors like red velvet cake to the more off the cuff fig, white chocolate and goats cheese cake.
6. King Cake At Haydel's Bakery
King cake is a Mardi Gras tradition, so you should really only get this cake between January 6th (aka "Twelfth Night") and Mardi Gras Day. This cake is basically a coffee cake with a thin layer of filling, topped with purple, green, and gold frosting or sprinkles. Traditionally, when you have a king cake, everyone needs to check their slice for a plastic baby figure. Whoever gets the baby has to bring the next king cake!
7. Cherries Jubilee At Antoine's Restaurant
Cherries jubilee is basically the same dessert as bananas foster. The cherries are steeped in brandy and set ablaze at your table, served over vanilla ice cream, of course. It's the more adult friendly version of the classic cherry pie that you didn't know you needed to try.
8. Gâteau De Sirop At Cafe Des Amis
Gâteau De Sirop is a traditional Cajun syrup cake made with roasted pecans and served with vanilla ice cream. Cafe Des Amis is actually a ways away from New Orleans in Breaux Bridge, but this french cajun restaurant is well worth the drive.
9. Banana Pudding Cake At NOLA
The very aptly named NOLA restaurant is Emeril Lagasse's more casual restaurant in the city. Unlike the Nilla cookie covered banana pudding of your childhood, NOLA's banana pudding cake is layered up and served with sweet cream and hot fudge sauce.
https://www.instagram.com/p/BEoeaU4KZ4c/?taken-by=themercuteify
10. Classic Beignets At Cafe Du Monde
As you may know, beignets are basically square doughnuts covered in powdered sugar. Made fresh all day long (you can actually watch if you walk behind the building) and served warm, beignets are a New Orleans staple. Stand in line to get inside the green and white stripped tent for a delicious treat all day long, because really, you deserve it.
Love this article? For more beauty, style, travel, and trending topics check out The Luxury Spot on Facebook. Like us and we'll love you back!