Ten classic New Orleans cocktails you need to pour into your glass immediately, because the weekend is never more than a few days away.
New Orleans drinking culture is ingrained into our everyday lives as locals. It's actually kind of weird for me to leave the city, go out to a restaurant somewhere and realize I can't take my unfinished drink with me (love you forever, NOLA!). New Orleans cocktails are some of the best in the world because we have such a long, historic, and torrid love affair with alcohol.
That being said, here are a few of the must-try New Orleans cocktails if you ever venture down south to visit:
Created in the late 1830s the Sazerac is New Orleans oldest famous cocktail. It's made with rye whiskey, bitters and absinthe. I'm personally not a big fan of this particular famous drink, it's a little too much for my unrefined palette. The Roosevelt Hotel boasts the very fitting Sazerac Bar though, and that has a very cool art deco style so you can sip your Sazerac in style. And yes, this is one of the most iconic of the New Orleans cocktails.
READ MORE: 10 New Orleans Beignets You Need to Chew On Now
For a classic Bourbon Street drink, head to Pat O'Brien's for a Hurricane. It is a juice-filled rum drink that is the definition of sugary sweet. This drink has been around since the 1940s and was concocted by Pat O'Brien himself. This is an old Bourbon Street bar so expect a beautiful old interior and a party every time you enter the door.
Made with gin, Champagne, lemon juice and sugar, the French 75 is a refreshing drink in the New Orleans undying heat. The bar has had several recreations over the years and only came back as the French 75 in 2003. The interior has a beautiful dark vintage feel which goes well with their menu of classic cocktails.
https://www.instagram.com/p/BE2AP7GqZ6W/?taken-by=themercuteify
The Pimm's Cup dates back to 1840 and is made with Pimm's No. 1, lemonade, orange and cucumber. Pimm's are my personal favorite cocktail because they aren't overly sweet and they really hit the spot in the New Orleans heat. The Napoleon House is a beautiful old bar in the French Quarter. Sit by the windows and people watch, or try to nab a seat in their gorgeous courtyard.
Vieux Carré is actually the old french name for the French Quarter. The Vieux Carré drink is a mix of whiskey, cognac, and bitters. You can try it at the Carousel Bar, which is a sight to be seen, drink or no drink. It is quite literally a real rotating carousel with seats for the patrons.
READ MORE: 10 Best Things to Do in New Orleans
Fat Tuesday has locations all over New Orleans and the surrounding suburbs. You probably won't ever notice a Fat Tuesday sign, instead you'll see in big neon lights New Orleans Original Daiquiris. You can walk into several locations around the city and buy one of their many frozen drinks. They even have drive through locations because New Orleans.
The Brandy Milk Punch wasn't actually originally made in New Orleans, but it has such a strong history in the city I couldn't leave it out. It's a milky brandy drink with nutmeg and vanilla. Brennan's Restaurant is one of the cutest, most instagrammable places I've ever seen with a pink exterior and a pink and green interior, it's like you stepped into the conservatory of an overzealous decorator in the 1950s.
A Café Brulot is both a drink and an experience in and of itself because it is made by your table and served flaming. Made with cognac, Grand Marnier, brown sugar, cinnamon, cloves, and of course New Orleans chicory coffee. Antoine's is credited for making the Café Brulot and is one of New Orleans staple restaurants.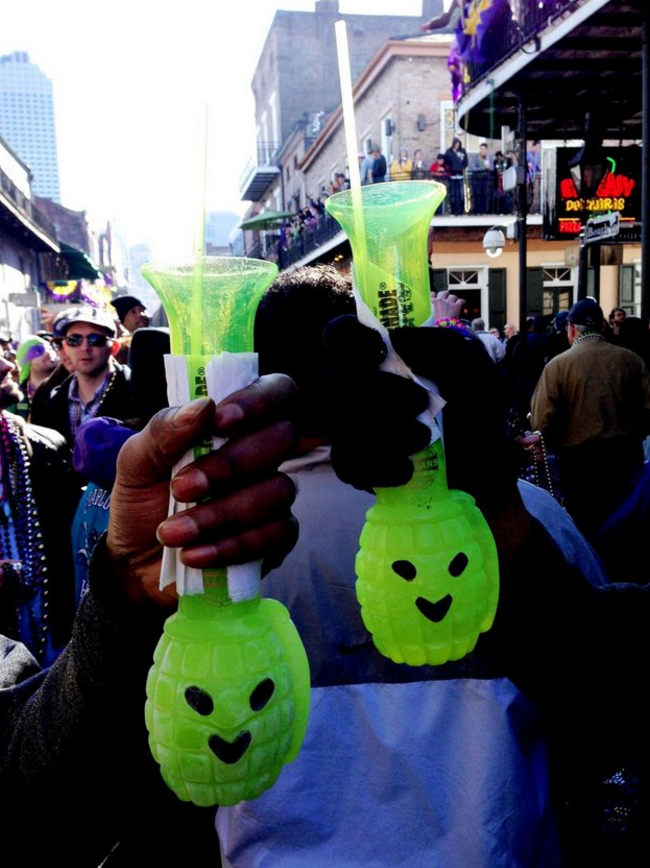 The Hand Grenade is one of the strongest drinks you'll find on Bourbon Street. It's very sweet and comes in a long plastic cup shaped like a grenade at the end. You'll definitely see people walking around the French Quarter carrying their hand grenade.
Crafted in 1907 the Ramos Gin Fizz is made with Gin, cream, lemon and lime juice, simple syrup, egg whites, and orange flower water. This old school drink can be found in many historic bars around New Orleans but Cure on Freret Street really deserves a shout out. For being a new bar on the scene, Cure always makes quality classic cocktails.
Love this article? For more beauty, style, travel, and trending topics check out The Luxury Spot on Facebook. Like us and we'll love you back!