10 lipstick application hacks you need to try now to up your lip game
Lipstick is arguably the best bit of makeup, and if you disagree, that's cool — argue it out in the comments section below. It can totally change up your look, brighten your face, and put you in a good mood. If you've ever struggled with lipstick application, you know, getting it to look good and last all day, I definitely can relate.
These are our top ten lipstick application tips to keep your lipstick looking perfect.
Exfoliate Every Day
This is probably one of those lipstick tips you've heard before but it needs repeating because nothing is worse than applying lipstick to dehydrated, chapped lips. To exfoliate you don't need to buy any fancy lip scrubs that will get in your mouth and taste kind of weird. All you need is a washcloth! Morning and night as you are washing your face, take a clean, damp corner of your washcloth and buff over your lips. Follow it up with a hydrating lip balm.
Moisturize Before Matte Lipsticks
If you've ever worn a matte lipstick for more than one day in a row, your lips will let you know how they feel about it. To keep your lips from getting sore and dry, apply a very thin layer of lip balm to keep your lips hydrated through out the day. I like Nuxe Reve De Miel for this because it has a matte texture so it won't make your matte lipstick shiny. Doing this will cut down on some of your wear time, but your lips will thank you.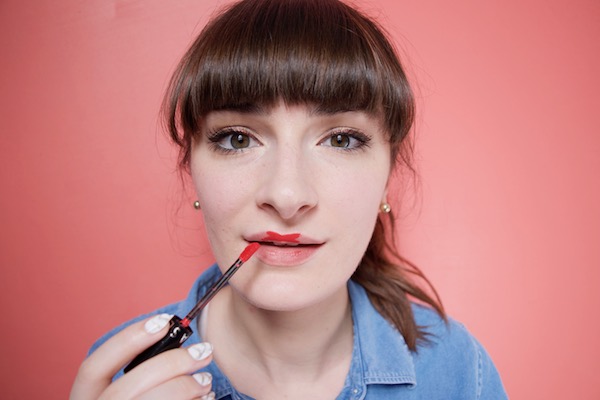 Define The Cupid's Bow
One of the most noticeable places to get wonky with lipstick application is the cupids bow. It's the little "V" shape your lips make at the top and if you get the angle funny, or make the top peak wider than it is naturally, things look just off enough to be noticeable. The easiest way to get your cupids bow drawn on right is to do it first. Start at the very tip and follow the line down, repeat on both sides. You'll end up with a little X on your lips that shows you've done it right.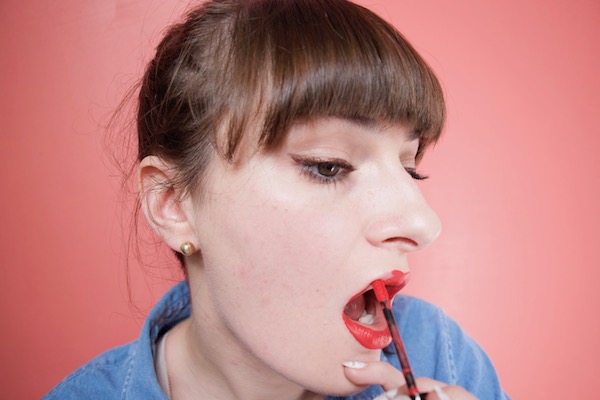 For More Control, Draw Up
If getting your lip line just right is a constant struggle, try going from the corners of your lips up, instead of from the cupid's bow down. This allows you to see the shape of your lips as you are going. The opposite way (drawing down) your lip line is covered by your lipstick and your hand, so really, you're flying blind on your lip line.
Apply & Blot For Longer Lasting Color
Creamy lipsticks just don't last as long as mattes, but they are so much more comfortable and make your lips look instantly larger from the sheen. To get creamy lipsticks to last longer, apply the lipstick, blot it down with a tissue, and apply again. This takes out some of the moisture from the first layer of lipstick but leaves the pigment. Add on the second layer and you've got color all day.
Press in for a Muted Stain
Love a lipstick color but maybe your office dress code doesn't? Apply one layer of the lipstick by pressing it into your lips with a finger. This applies way less of the lipstick than going straight from the bullet. Pressing in the lipstick also will make it last longer because you mostly apply the pigment, not the waxes and oils that make up the bullet.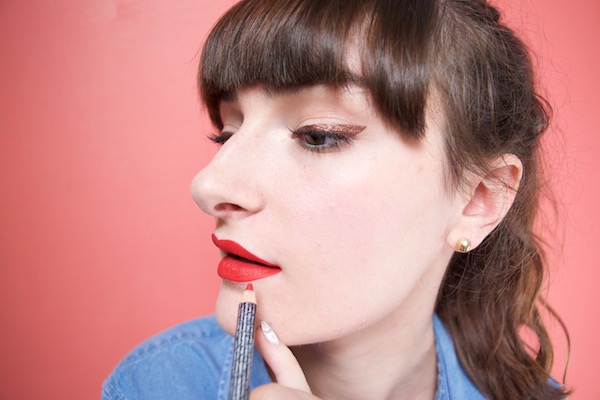 Line After Lipstick
Instead of applying lip liner before the lipstick, apply it after. By doing this you clean up any awkward lip line mishaps and you can control what areas of your lips that actually need the liner. Applying it first always gives a harsh line all the way around your lips, applying after never does.
Or Use Concealer Instead
If a blended line is more up your alley, fix your lip line and keep lipstick from wandering with concealer instead. This lipstick application tip will give a softer, less dramatic effect. After applying your lipstick, use a creamy concealer or a powder for an even softer look, and apply with a brush around the outline of your lips.
Set With Translucent Powder
To tone down a lipstick and make it last longer, set with a translucent powder. To keep from getting a weird powdery mouth or from making your lipstick turn into a pastel shade, use one layer of tissue as a barrier. Place the layer of tissue over your lips and press in your translucent powder with a big fluffy brush. This keeps most of the powder off your lips, but adds just enough to make the difference.
Touch Up With More Liner
Anyone who has ever lost their favorite (expensive) lipstick will tell you to leave it at home. But if you need touch ups through out the day you may be out of luck. Instead of risking a $50 Tom Ford lipstick, find a cheapie lip liner in a matching shade to bring with you. You can fill in your lips wherever you need with precision by using a lip liner.
Love this article? For more beauty, style, travel, and trending topics check out The Luxury Spot on Facebook. Like us and we'll love you back!