All the New Orleans beignets and doughnuts you need to put in your mouth now. Bless our hearts.
New Orleans has a huge food culture. It's actually insane. I went to college in Normal, Illinois (that's a real place) where I lived for four years before moving to NOLA after graduation. There are maybe ten restaurants in Normal and they're mostly comfort food for college students. In New Orleans I feel like practically every other shop is in the food business and killing it, so I decided to put together the most epic New Orleans beignets and doughnuts list of all time.
On thing that I'm constantly amazed at is the unbelievable doughnuts. Prepare to drool, people.
https://www.instagram.com/p/BDOFBWfKZ0O/?taken-by=themercuteify
The classic must-go to beignets restaurant is Cafe du Monde. Located smack dab in the middle of the French Quarter and right on the river, this old school doughnuttery sells drinks and traditional New Orleans beignets. That's literally it and the line to get in is almost always down the street. If you like funnel cakes (and how could you not, it's literally sugary dough covered in powdered sugar) you will love beignets. They are square doughy perfection doused in powdered sugar – you may want to wear white when you visit or you will be dusting off powdered sugar all day long.
https://www.instagram.com/p/54bZpNqZ0u/?taken-by=themercuteify
For more New Orleans beignets located smack dab in the middle of City Park look no further than Morning Call. Just as cheap as Cafe Du Monde, Morning Call's beignets aren't covered in powdered sugar. They are prepared in the kitchen and brought out to you piping hot with a powdered sugar shaker so you can add (or, I guess not add) as much sugar as you want.
Ok, so maybe you are looking for something a little more wild, a little more out there, a beignet that isn't just dough covered in sugar. The first annual beignet festival is set for October 8th, just a few weeks away. It is set to have some off the original menu beignets stuffed with candied bacon, some with oysters, and even a burger beignet. I personally can't wait.
Wink's is a little bakery in the French Quarter that will satisfy all your sugary cravings. The atmosphere is always friendly; I'm a big sucker for exposed brick walls – it's particularly cute. The apple fritter will honestly make you cry it is that good so don't miss out while you are touring the quarter.
Just down the road from City Park you can find the best, most over the top maple bacon doughnut in the city. Blue Dot Doughnuts has your standard cake and risen doughnuts, bear claws the size of your head, and the piece de resistance is their maple bacon long john. This comes topped with more bacon than I've probably ever eaten in one go and the maple icing is to die for.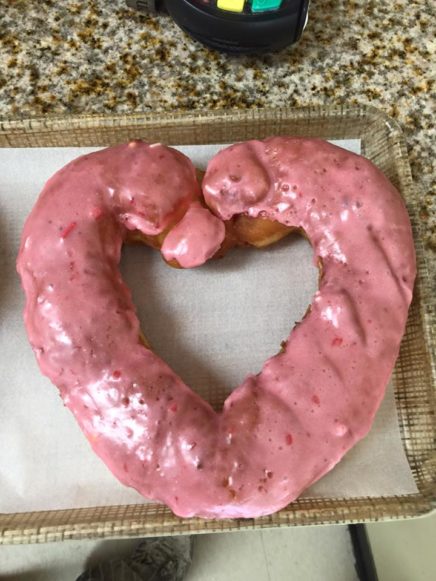 The Family owned Daddy's Donuts is in the Gentilly area has the freshest doughnuts at all times and always have amazing doughnuts around the holidays that will feed your need for themed doughnut treats. When there isn't a holiday to celebrate with your breakfast, I say go for a classic glazed doughnut or the doughnut holes.
So this is more of a breakfast, lunch, brunch place but the doughnuts are to die for. Try their buttermilk drop doughnut while you sip a fancy coffee. I also need to say my piece about their cinnamon rolls, they are some of the best (and possibly largest) cinnamon rolls I've ever had.
Ok so technically this is in Jefferson but it's still right here. Get up early to get the best hot doughnuts at Baker's Dozen, because they close before noon every day and they are closed on Mondays. On Saturday you can get their doughnut hole milk shot which is very adorable. They also have character doughnuts (like Dora) for the kids.
Freret St. Poboy and Donut Shop
Freret st. Doughnuts is a simple, comfort food restaurant. You can smell the sweets while walking down the street and let me tell you it is tempting. You can go to Freret St. and have an awesome shrimp poboy and top it off with one of their amazing honey buns.
https://www.instagram.com/p/7iLDPGqZ4D/?taken-by=themercuteify
Check the District Doughnuts Instagram page everyday for a good morning drool and to see what doughnuts are available that day. This is not one to miss if you are walking around Magazine street. Personal favorites include Mexican Hot Chocolate (lightly spicy chocolatey goodness) Strawberry Basil, and pineapple upside-down. The doughnut flavor combinations are always new and interesting and the doughnuts themselves are absolutely huge, making it a nice alternative to the New Orleans beignets scene.
Love this article? For more beauty, style, travel, and trending topics check out The Luxury Spot on Facebook. Like us and we'll love you back!