Try these tricks for the perfect no makeup selfie — because you're gorgeous naturally.
New year, new you, right? How about this year, instead of trying to change your look, you rock what you've got with confidence? Your perfect outlet is the no makeup selfie. No one can deny the power of a makeup free photo snuck in between the glam queens of Instagram.
As much as we truly love makeup, it's important to love your face without the fun products. Posting no makeup selfies helps to boost your confidence. Follow these tips for the best no makeup selfies you ever did see.

1. Lighting Is Still Everything
Last article on beauty photography we covered lighting because it is so important. Lighting for the no makeup selfie? Even more important. Bad lighting can make you look tired, put funky shadows on your face, and generally make you look less hot. Try to find a natural lighting source and stand so it's not too harsh but still lighting your face.
2. Work Your Angles
We also covered this in the above mentioned article but it's worth repeating. Finding the angles that work well for you can help you feel much more confident taking a makeup free photo. Not too keen on your under chin area? Take a photo from just above your eye line.
3. Lip Balm, Wear It
Lip balm is skincare and therefore does not count as makeup. Sometimes, commenters on no-makeup selfies will lose it over the person wearing lip balm. But, so long as it's moisturizing your lips, who cares if it is shiny? If you can't live without applying your lip balm, wear it in your no makeup selfie.
4. Poof! Now You Have Eyelashes
If your eyelashes are on the short side, or stick straight out you can make them appear by taking a close eyed selfie. It's not as weird as it sounds, just see below! The downward angle shows off your lashes in contrast to your face.
5. Greasy Hair? Crop It Out
Never doubt the power of the crop. If you've got hair that is looking less than clean but your skin is looking so good you want to take that selfie, just crop it out! Can't see the hair? Can't tell you haven't washed it in a week.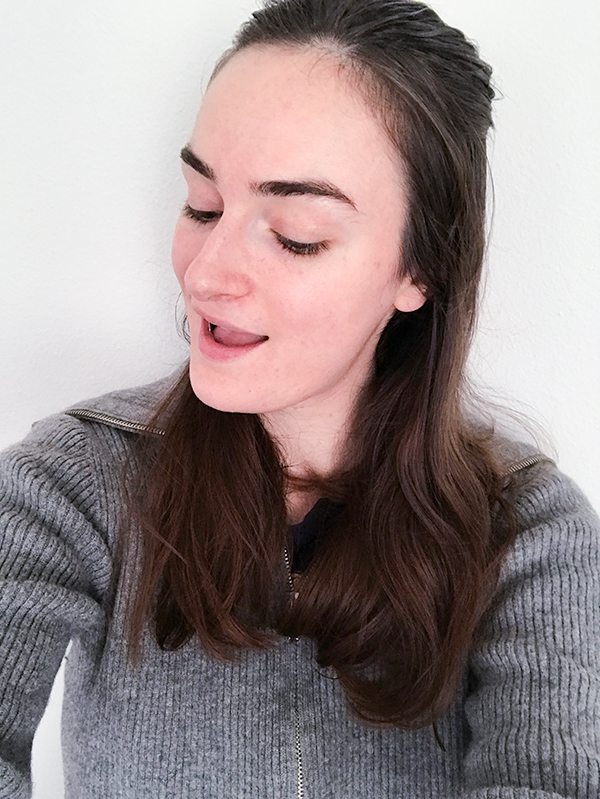 6. Big Zit? No Big Deal
If you're really going for the love your face as it is type of selfie, show off that zit with pride! If you have acne prone skin (who doesn't?) or get hormonal (who doesn't) or just forgot to wash off makeup, you've had a zit. It happens! If you aren't too keen on showing a zit, angle your face so it is out of the way. You could also go for the casual hand placement for covering a pimple, there are so many options!
7. Hair Down Or Up?
Personal preference will win out, but going for hair down may make you feel less naked in your no makeup selfie. You could also wear your hair down as another crafty way to hide a zit. See? The options really are endless.
8. Freshly Moisturized Skin
When going for the no makeup selfie, your skin is front and center. If you're a die hard foundation fiend, it may difficult to go without. But, to get that dewy, healthy, clean, fresh looking skin that foundation normally gives, just try moisturizing.
9. Smile Naturally
The no makeup selfie tends to be a little raw. And, if you're going for the raw emotion type of photo, obviously, show that emotion! But, if you're aiming to boost your confidence, just smile. Smiling releases endorphins that literally make you feel better, too. It's a win-win.
10. To Filter Or Not To Filter?
Doing a no makeup selfie and applying the Nashville filter at full strength kind of defeats the purpose. Instead, edit your photo to compensate for white balance and brightness. It will do that little bit to perfect your photo without covering yourself in a filter.
Love this article? For more beauty, style, travel, and trending topics check out The Luxury Spot on Facebook. Like us and we'll love you back!