Copper makeup is having a major moment.
The underdog of the metallic makeup trend is definitely copper. You'll see people plenty of people wearing golden tones, maybe silver, but rarely copper makeup. Which is a real shame because copper makeup can make every eye color really pop. If you have blue eyes, try a yellow copper shade, green eyes find something with a bronze hint. And, because copper isn't a far cry from brown, it brightens up brown eyes too. Just to show you how awesome copper makeup really is, we're showing you ten different ways to wear the look.

Copper Glitter Eyes
Glitter eyes are still a favorite way to wear any color on the lids. Copper glitter is an easy way to lighten up the color because it reflects to a bright golden shade. To get this glitter eye look I applied the Beauty Bakerie Sprinkles Glue all over the lid, and lightly dusted on the Bronze Sprinkles for a diffused glittery look.
Copper Pop Smoky Eye
For a different take on the glitter eyes, you can do a dark smoky eye in a neutral color like gray or taupe and apply a little glitter right in the center of your eye. This makes any ol' smoky eye pop and you get to wear glitter in a much more sultry way.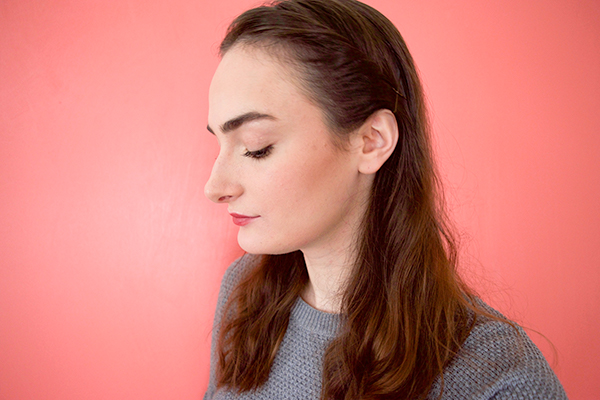 Copper Contour
For those of us on the Casper side of the skin tone spectrum, try using copper as a cool, metallic contour. If you go all out and use a copper eyeshadow to contour you'll get an editorial, high fashion look. For a less intense copper contour, try using a copper highlight that is a few shades too dark for you.
Copper Highlight
If you have a deeper skin tone, try a copper highlight! It's such a pretty, warm shade. You can use the Beauty Bakery So Icy Illuminator in Glazed for a bright, sparkly highlight. It's the same shade I used as contour, above.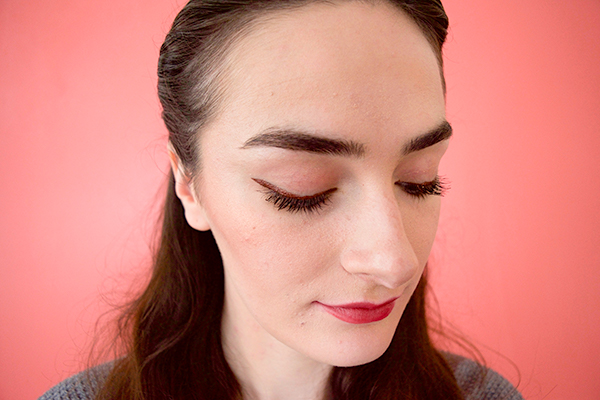 Copper Cat Eyeliner
Cat eyeliner is one of my personal favorite ways to incorporate more color into my makeup routine. As for copper makeup my favorite shade is the H&M Liquid Eyeliner in Roast Chestnut. It's on the bronzy side of copper and it makes green eyes pop.
Copper Cut Crease
You can always do a graphic cut crease eye makeup look using copper liner. Instead of needing to mess around with blending eyeshadows for hours, just do a bold liner cut crease. Have plenty of cotton buds and makeup remover on hand to make sure you get that line perfect.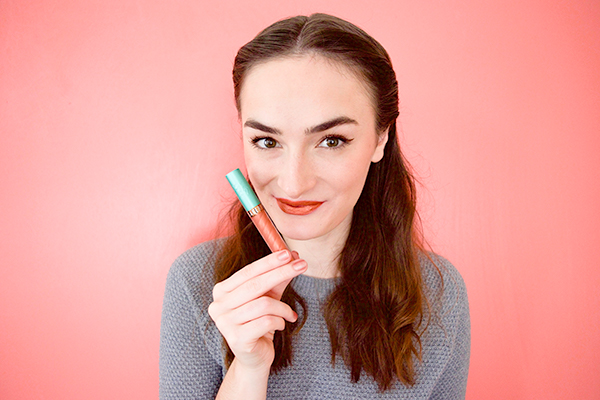 Copper Lipstick
Have you ever seen anything as great as this copper lipstick? It leans a bit orange which makes it much easier to wear as a lipstick than your standard copper color. This metallic perfection is Beauty Bakerie Creme De La Crumb.
Copper Eyebrows
If you really want to go for a wild copper makeup look, try filling in your brows with a copper color. If you have brown hair it won't be too over the top, but it will add a cool metallic look to your brows. It's kind of like the glitter eyebrow trend but much more low key.
Basic Copper Smoky Eye
If you are in need of a really good copper eyeshadow, try the Makeup Geek Foiled Eyeshadow in Legend. It's a bright bronzy copper with a metallic finish. I just applied it all over the lid and blended out for the easiest smoky eye of all time.
Copper Faux Freckles
Remember when rainbow faux freckles had a moment in the sun? I was always surprised that metallic freckles never had the same impact. You can fake metallic faux freckles with eyeliner. I suggest the Urban Decay Razor Sharp Liner in Snakebite because it has a super fine brush which makes faking freckle shapes much easier.
Love this article? For more beauty, style, travel, and trending topics check out The Luxury Spot on Facebook. Like us and we'll love you back!