Be fresh to death, and ready for anything the work-week brings you. Streamline your commuter kit with these 5 must-haves: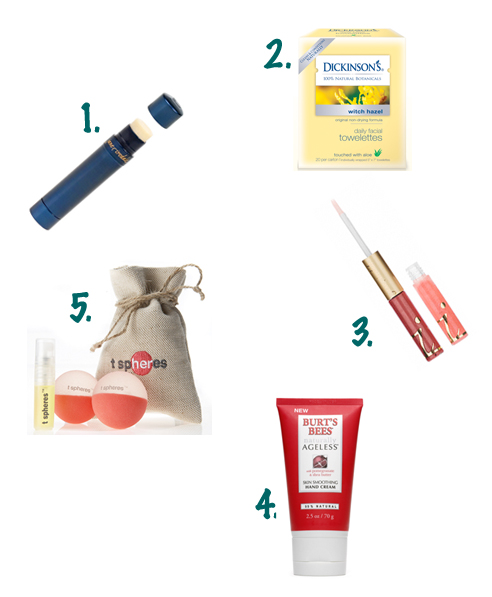 1.) jane iredale LipDrink SPF 15 [$11.60] subtle gloss & moisturized lip for the more conservative office. Protects your lips and adds a little gloss. Keep your lips moisturized at all times. No more flaky lips!
2.) Dickinson's Daily Facial Towelettes [20 towelettes SRP $5.49] Perfect for on the go, so refreshing and can be used to reduce redness, control oil,  remove makeup or  freshen in the middle of the day. And on the way home when you just want to wipe the day away! It's TSA approved too – keep 'em handy to wipe away those plane germies.
3.) jane iredale Lip Fixation Lip Stain[$29] for if you want to a little color and shine before your morning meeting…will keep your lips looking great for the entire day and the color stays! And you never know when a Missed Connection could occur… am I right?!?!
4.) BURT'S BEES NATURALLY AGELESS HAND CREME [$13] keep this stashed everywhere -your purse to moisturize, smooth  freshen up before you hit the office, your desk, or after lunch. A subtle scent of ingredients like pomegranate (included to help fight free-radicals) doesn't hurt either.
5.) t spheres aromatherapy-infused massage balls [two balls & aromatherapy oils – $35] massage & aromatherapy all in one. Self-massage that is super easy to stash in your bag for a quick destress on the train, in the car, or at your desk before the long commute home. Aroma therapy oils are provided with two small spheres to help alleviate ailments like depression, inflammation, lack of concentration, fluid retention and congestion! And a portion of the proceeds of this product goes to FM World Charities.
Disclosure: All products were provided for review. No monetary compensation was received for this review. All opinions belong to the author.