Women are masters of disguise. Breaking out? Hello concealer! Concerned about some unwanted curves? Spanx to the rescue! Over time, we all acquire tricks to disguise any physical problem that is bothering us at the moment. Out of all the issues, one that seems to be a constant struggle for women is battling dark, under-eye circles.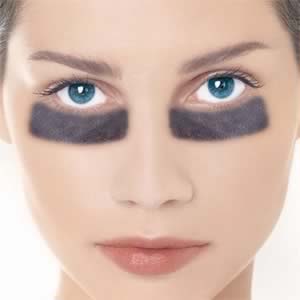 The area under your eyes is home to the thinnest skin on the entire human body, which makes it easy to understand why it is so prone to damage. Scientists believe that under-eye circles are caused by broken capillaries, sun damage, extra pigmentation, fatigue, stress, and in some cases can be hereditary.
Yes, this is one of the more difficult beauty problems to solve, but getting rid of dark circles isn't impossible! Here are 5 simple ways to lighten up dark circles, and get you on the fast track to saying goodbye to them all together:
1. Yellow-based Concealer
Dr. David E. Bank, author of Beautiful Skin, says that this color is best to neutralize dark circles, and suggests lightly applying concealer to the under-eye skin. Have seriously dark circles? Follow up with foundation and powder. For added effect, apply a shadow that is slightly lighter than the shade of your upper lid to open the eye and distract from dark circles. If you are in need of some specific product recommendations, here are some good beauty buys that are all available at Sephora!
Stila Perfecting Concealer: This semi-matte finish is great for eliminating eye circles and redness, just $23.
YvesSaintLaurent Touche Eclat: Bring light and radiance to the darkest shadows of the face with this luminizing pen. It's great for concealing, contouring, and adding fullness, for $40.
Bobbi Brown Tinted Eye Brightener: Add instant brightness with this quick fix for under-eye circles, only $38.
2. At-Home Remedy
This is one of the most used and effective home remedies for lightening dark circles and reducing puffiness. Apply a medium-thick paste under your eyes made from 1. a teaspoon of tomato juice, 2. half a teaspoon of lemon juice, 3. a pinch of turmeric powder, and 4. a pinch of white flour (or enough to make it into a paste). Keep this on for no longer than 15 minutes, and rinse off.
3. Vitamin K
This vitamin strengthens the capillary walls of the skin, which helps prevent the capillaries from bursting and causing dark circles in the first place. There are numerous eye creams containing vitamin K, but be patient—it takes a while for the benefits to really start showing. This would probably work best as a preventative measure to avoid getting dark circles.
4. Cucumber Slices
Slices of cucumber applied to the skin around the eyes can help reduce the appearance of dark circles. Place the cucumber slices over your eyes for 5, no longer than 10 minutes. Once removed, you will notice that they help to lighten the skin and also leave a refreshing sensation.
5. A full night's sleep
Although some scientists say getting more sleep won't cure them, a lack of sleep definitely makes dark under-eye circles worse. Get the recommended 8 hours of sleep in each night and, along with the other tips, your dark circles will soon fade.
[ via
endlessbeauty
]