The classic look for Summer hair is essentially effortless – just go to the beach! After being in the ocean all day, many of us return home with locks of gorgeous face framing waves. Here we'll tell you the 5 tips to getting these waves anytime, anywhere – whether you actually hit the beach or want to emulate the look for a night out ( a la our beach-haired red carpet look on Kate Hudson below).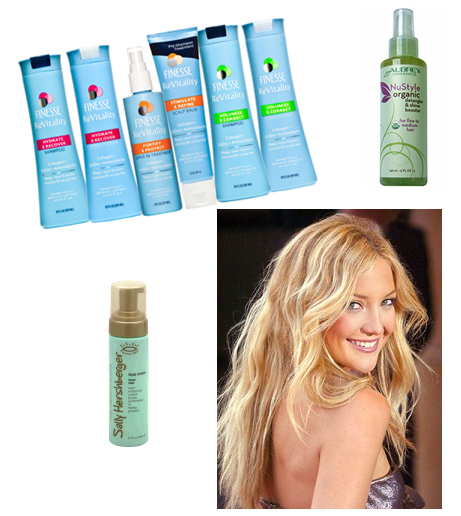 1. The first sure fire way to get that tousled beach look is with actual ocean water! Scoop some into a spray bottle before you leave the beach to spritz your mane anytime to get those sexy just-back-from-the-beach waves.
2. At home you can make your own salt water concoction by simply buying store bought sea salt and mixing with warm water and your favorite scented essential oil to make those locks look and smell fabulous!
3. If you hit the beach in the AM and want to keep your waves alive for the PM, minus the frizz – spritz your hair with Aubrey Organics NuStyle Organic Detangler & Shine Booster ($9.95). This organic formula smooths out tangles, protects hair from breakage and heat damage and brings out natural shine – perfect for keeping those natural beach waves in tip top shape even during a night out!
4. If you aren't as crafty, don't have time to hit the beach or make your own salt water concoction – wash with Finesse ReVitality Moisturizing Shampoo and Conditioner and air dry. Finesse's unique self adjusting formula contains Silk and Soy Proteins that protect the hair shaft with a coat of conditioning and shine, no matter what your hair type is. Definitely an essential hair product during the hot summer months, where the sun is aging our hair just as badly as it's aging our skin. Infused with collagen, CoQ10 and antioxidants, ReVitality dramatically improves strength and softness of hair after just one use. Find it at supermarkets for under $5.
5. Another quick fix for gorgeous beach waves is to spray damp hair with Sally Hershberger's Style Primer for Wavy Hair ($12.95)! This spray increases shine while creating the perfect foundation for the fresh from the beach tousled look!
Disclosure: All products were provided for review. No monetary compensation was received for this review. All opinions belong to the author.