Five very important ways to wear glitter eyes this season, because the windows to your soul should sparkle.
We're feeling like celebrating the holiday season by wearing as much fun makeup as possible (read: glitter eyes), which means all the glitter we can possibly handle. Sure, glitter lips may be cute for an Instagram, but you probably don't want to wear them all day. So instead, we're all about the glitter eyes to add a little soul sparkle.
Before we start, let's have a quick chat about glitter safety. You should really only use glitter that is eye safe. Eye safe glitter is teensy and has smooth edges so it can't scratch your eyes. Your average glitter that you get at the craft store is larger and has sharp edges that look cool but could literally cost you your eye. So please, don't lose an eyeball to a glitter eyes look.
READ MORE: DIY Ombre Lips
Glitter Eyeliner
Glitter liner is easily my favorite way to wear glitter eyes. To get this light look I just used the Urban Decay Heavy Metal Glitter Eyeliner in Midnight Cowboy. You can follow these tips for creating the perfect cat eyeliner. Admittedly, the glitter is a little sparse in the liner so it took three coats to get a fully glittered look. You could also get a darker look by applying standard black liner and applying the glitter on top. All glitter is great.
The Glitter Cut Crease
This cut crease look is full on mega glam. To create a glitter cut crease first, follow this cut crease eyeshadow tutorial. When your crease is cut, use a glitter liner to follow the shape of the cut crease. This is a super easy way to take your night out look and turn it into a NYE look! Plus, covering the cut crease line with glitter will cover up any little mistakes in your line. Double win.
Glitter Highlight
You can totally add glitter into your everyday life by wearing a sparkling inner corner highlight. It doesn't get a whole lot better than that if you ask me. All it takes is using a light colored glitter, in this case silver, and applying it near the inner corner of the eye. This is when it's particularly important to use eye safe glitter. If your glitter is in liner form, you're good to go! If it's loose glitter, you'll need to mix it with an eye safe glitter adhesive.
Selective Glitter Placement
Jazz up your average nude eye makeup by applying just a tiny bit of glitter. To get a bigger eye look, apply the glitter right in the center of your lid. Just make sure you diffuse the edges of the glitter so you don't just have a solid dot of glitter on your eye. This brings a lot of light and brightness to your eyes so it's a good trick to use if you're feeling tired.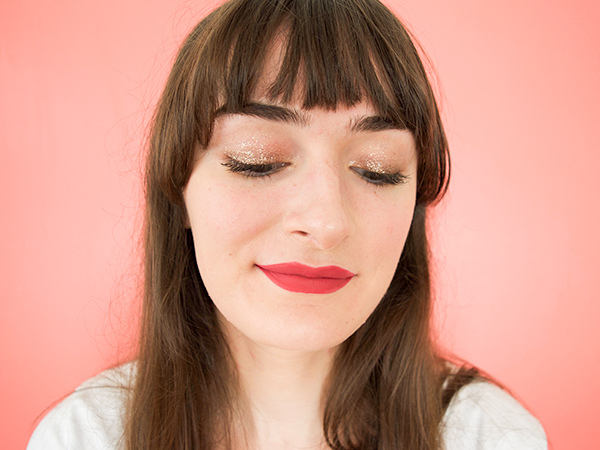 Glitter Smoky Eye
For an all out glitter extravaganza try doing a fully fledged set of glitter eyes, I'm calling this the glittery smokey eye. I started this look by applying a dark brown liner to my lash line and blended up. Then, I applied the NYX Glitter Primer (it's the adhesive) all over my lids. To create a gradient, I used a duo fiber brush to apply a bronze glitter near my lash line and blended it into a white glitter near my crease. The glitter base is super sticky, so if you don't apply an opaque layer of glitter, just dust a translucent powder over the top.
Love this article? For more beauty, style, travel, and trending topics check out The Luxury Spot on Facebook. Like us and we'll love you back!