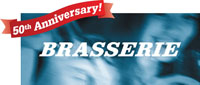 There will be a variety of festivities and special menus that will celebrate Brasserie's 50th.  Please visit
www.patinagroup.com/brasserie50th
for details, including:
A (Free) Taste of Brasserie – On September 17th, Brasserie's classics, favorites such as French Onion Soup and Steak Frites, will be offered as part of this three-course anniversary lunch (menu attached).  The public can call (212) 751-4840 for reservations.  The first one hundred callers

not

to get a coveted seat on the 17th will instead receive a rain check for a complimentary "$19.59 after 9" dinner.
The Brasserie Burger – Chef Dimnet is bringing back The Brasserie Burger to his menu, made the same way it was back in 1959.  Sandwiched on a crusty, sliced baguette spread with garlic butter,  the burger's hand-ground patty is stuffed with a blend of Gruyère and Swiss cheeses and offered à la carte.
"$19.59 After 9" Menu – Paying homage to the late-night tableau of brasserie life, a 3-course prix fixe will launch on September 17th priced at $19.59, from 9 PM until closing, running through the end of 2009 (menu attached).
Vintage Cocktail Menu – Spanning the restaurant's fifty year history, libation highlights from each decade will be shaken, strained and stirred at Brasserie's modern bar.  The classic Martini from the 1950's, made authentically with gin and 1/3 dry vermouth,  the Kir Royale from the 1970's and the quintessential '90s Cosmopolitan are a few examples.  Timeless brasserie favorites including a chilled Lillet cocktail, dry Dubonnet, or potent Absinthe will also be included, ideal to complement any meal (menu attached).
"5 Decades of Brasserie Cuisine" Dinner – A special dinner open to the public on September 30th will offer five memorable courses of archivals from Brasserie's five decades.   La Caille Brillat Savarin,  Le Filet de Sole 'Lucullus' and Le Crottin de Chavignol are some of the items that time almost forgot, grand and compelling for their charm and unmatched flavor of years past (menu attached).  Seats are limited and must be purchased in advance at:
www.patinagroup.com/brasserie50th
Menus
A (Free) Taste of Brasserie
Anniversary Lunch -Â  September 17th
11:30 am-2:30 pm
Steak, Frites, Salade Verte
Poulet, Frites, Salade Verte
"$19.59 After 9"
September 17th – End of 2009
Poulet, Frites, Salade Verte
"5 Decades of Brasserie Cuisine" Dinner
September 30th 2009
First Course 1959
La Caille Brillat Savarin
Quail Galantine, Port Gelée, Beet & Horseradish Vinaigrette
**
Second Course 1969
Le Filet de Sole 'Lucullus' et Quenelle de Brochet 'Nantua'
Filet of Dover Sole, Summer Truffle & Pike Quenelle, Brandy Lobster Sauce
**
Third Course 1979
Le Filet de Bison 'Rossini'
Hudson Valley Foie Gras, Potatoes Anna, Madeira Sauce
**
Fourth Course 1989
Fresh Almonds, Mâche Salad, Honeycomb
Fifth Course 1999
Le Vacherin Glacé aux Griottes et Cerises Fraîches
Meringue, Vanilla Ice Cream, Cherry Sherbet, Fresh Cherries
Vintage Cocktails
1950's – Martini
Beefeater 24 Gin or Smirnoff Vodka, Noilly Prat Vermouth, Pimento-Stuffed Olive
1960's – Side Car
Martell VS Cognac, Cointreau, Fresh Sour Mix, Brown Sugared Rim
1970's – Kir Royale
Veuve Ambal NV Champagne, Crème de Cassis, Lemon Twist
1980's – Fuzzy Navel
Absolut Vodka, Peach Schnapps, Orange Juice
1990's – Cosmopolitan
Lemon Vodka, Cointreau, Lime Juice, Cranberry Juice, Flaming Orange Peel
2000's – Mango Chili Mojito
Malibu Mango Rum, Mango Purée, Chili-Infused Syrup, Muddled Lime
Timeless Brasserie Classics ($7)

Lillet  – with Club Soda, Orange Twist
Pernod Absinthe – with Absinthe Fountain Water, Sugar Cube
Dubonnet – with Beefeater 24 Gin, Bitters, Lemon Twist
Brasserie Located at: 100 East 53rd Street, New York, NY 10022.  Tel: (212) 751-4840
About Patina Restaurant Group
Patina Restaurant Group (

www.patinagroup.com

), a bi-coastal boutique company, is a leader in the premium segment of the restaurant industry.  On the East Coast, its portfolio features New York City's world-famous Rockefeller Center Ice Rink, Rock Center Café, The Sea Grill, Brasserie, Brasserie 8 1/2, Café Centro, Naples 45, The Grand Tier Restaurant at the Metropolitan Opera and La Fonda Del Sol. Other East Coast properties include Tutto Italia Ristorante at the Epcot World Showcase in Orlando, FL and Tanglewood Music Center in Lenox, MA.
On the West Coast the portfolio includes the renowned, Michelin-starred Patina Restaurant in Walt Disney Concert Hall, Nick & Stef's Steakhouse, Café Pinot at the Maguire Gardens, Zucca Ristorante, Pinot Bistro, Catal and three other restaurants in Anaheim's Downtown Disney District®, Leatherby's Cafe Rouge at the Orange County Performing Arts Center, Pinot Brasserie in Las Vegas and catering and food service in museums and cultural centers throughout California.