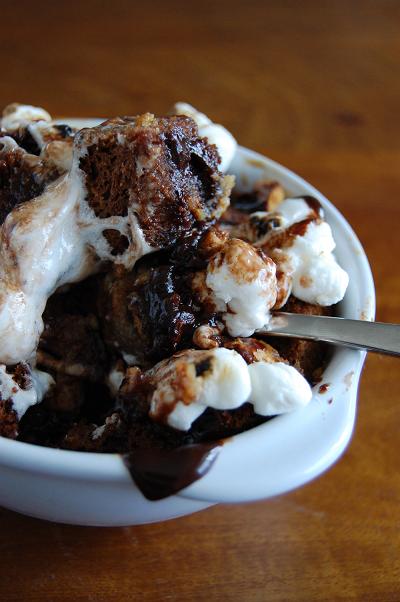 If this isn't something that makes your mouth water upon sight, we need to talk.
S'mores Bread Pudding
via Culinary Concoctions by Peabody
Ingredients:
1 chocolate bread (their suggested Guatemalan Chocolate Bread looks pretty legit)
1 ½ cups heavy whipping cream
½ cup whole milk
2/3 cup granulated sugar
3 egg yolks
1 egg
1 tsp vanilla extract
10 graham crackers
¾ cup mini chocolate chips
2 cups marshmallows (give or take, the amount is really up to you)
Butter a 8-x-8-inch pan.
Whisk together the heavy whipping cream, milk, sugar, egg yolks, egg and vanilla extract. Set aside, this is the custard mixture.
Sprinkle bread pieces on the bottom of the pan so that the pan is covered. Break graham crackers in to pieces and sprinkle evenly half of them on top of the bread. Sprinkle evenly half of the chocolate chips as well. Add 1/3 of the custard mixture and press bread down so that the custard soaks in. You may need more custard depending on how dry your bread is.
Then add bread pieces again, followed by remaining graham crackers and chocolate chips. Add another 1/3 of the custard mixture and again press the bread down to make sure all the bread pieces get soaked with custard. Keep adding the custard until all of the piece are soak through with custard. You will most likely have both bread pieces and custard left over, feel free to make a mini one.
Place dish in a water bath and bake at 350F for 1 hour. After the first 20 minutes, place aluminum foil on top of the bread pudding to prevent the graham cracker pieces and top of the bread from browning too much.
When the bread pudding comes out of the oven, immediately spread marshmallows on top to allow them to melt. You can use a kitchen torch or place under a broiler to get the toasted marshmallow look. Top with chocolate syrup and serve warm.