Layering sunscreen and makeup doesn't have to be difficult or weird.
Sunscreen is one of the best anti-aging skincare products. As much as the sun makes you feel good, and a tan will always look gorgeous, it also contributes to many issues like wrinkles and sunspots. So, the key to looking young forever is wearing sunscreen whenever you go outside. Which means layering sunscreen and makeup in a way that looks good. You just don't want to wear sunscreen if it is going to break up your makeup and make it look streaky and oily!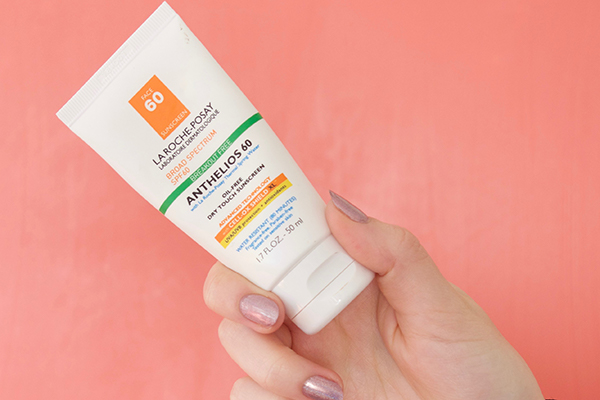 First, you need to pick the right sunscreen. It will depend a lot on your specific needs for SPF, and other skin concerns like acne or oily skin. My favorite sunscreen is the La Roche Posay Anthelios 60 Oil Free Dry Touch Sunscreen. It's a high enough SPF for my burn-prone skin and the texture dries down to a really nice non-greasy, velvety texture.
Then you need to actually apply that sunscreen. It's kind of the only way it will work! Apply it after you do your morning skincare routine. Once all of the rest of your skincare has sunk in and can do it's job, then apply the sunscreen. After applying, then you need to wait again until the sunscreen dries. I know, it sounds like a lot of waiting but you can do other good for you morning things during this time like eating breakfast or brushing your teeth. Allowing your sunscreen to dry helps to prevent pilling later.
Foundation don'ts to mix with sunscreen are more about application. You don't really want to use a foundation that you need to buff into the skin. Buffing foundations into your skin helps to give a beautiful, realistic finish, but it also helps to break up the sunscreen. Avoid foundations that require you buffing them in like powder foundations. Save those for your indoor days!
READ MORE: 10 Tricks for the Perfect No Makeup Selfie
Instead go for a liquid foundation that you love instead. There are a lot of differing opinions about applying a foundation with SPF on top of a dedicated SPF, so to be safe, it's best to go for an SPF free foundation. Opt for one with a smooth, satin finish.
Apply your foundation with a sponge or fingers. It's the only way to apply your foundation on top of sunscreen and have it not get all streaky or flaky. The goal is to bounce the foundation over your skin instead of rubbing it in or working into your skin. I prefer to apply with the Real Techniques Miracle Complexion Sponge. It gives that airbrushed finish with limited effort!
Love this article? For more beauty, style, travel, and trending topics check out The Luxury Spot on Facebook. Like us and we'll love you back!