Little by little I've been trying and retrying the best of the best in the world of maternity. I've been through all this before, but luckily (and this is how I know the world ISN'T ending in 2012) everything seems to be constantly progressing and moving forward- simply put, the stuff available to the knocked up ladies of the world is only improving, and I, for one, am grateful.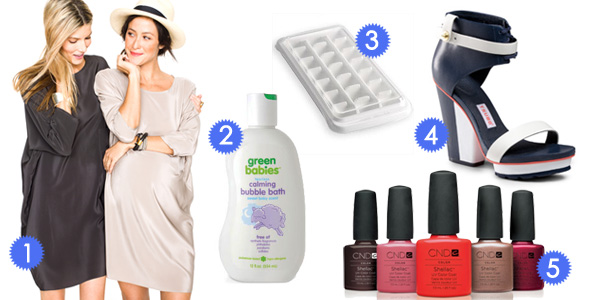 1. The Most Awesome Maternity Fashion I've Tried Yet. Hatch Collection basically knocked my socks off when I visited their showroom. For starters, nothing on their racks looked like a frumpy pregnant lady frock… everything was cut beautifully from gorgeous silks and jersey and varied other fabrics that your non-knocked-up self would beyond love wearing. And that's a good thing, because the entire collection is meant (and carefully cut) to be worn before, during, and after pregnancy. Heck, you could pull a SJP and hand your child-bearing experience off to a surrogate (honestly, not a bad idea if you value the height and quality of your boobs) and still look incredibly beautiful in these clothes. I recently wore the silk T-Shirt Dress to a TV appearance in Washington DC and got about a bajillion compliments before I even walked on set. I wore it plain with a pair of fun wedges, but after baby is born I can still rock this with leggings, boots, and a jazzy belt or vest. #LOVE
2. Lavender Bubble Bath, I think I Love You. Let's be clear. I'm overheating all the time. I am a beached whale on a constant basis. In fact, my 3 year old started squirting me with one of those misting squirt bottle fans the other day and instead of being all "don't do that in the house!" I was all "please put some ice in the bottle!" My best solution yet has been a daily, lukewarm to slightly chilled lavender bath. Suds of choice? Green Babies. It's natural, doesn't have junky chemicals, smells like heaven hopped into my bathtub, and for about 30 minutes every day transports me to some heavenly, not-overheated place. Oh, and did I mention my kid loves it for actual bubble play, too?
3. Speaking of Overheating… The Container Store sells these nifty little BPA-free ice cube trays which are perfect for making mini-popsicles (I water down a little cranberry juice and stick toothpicks in so I don't feel guilty about eating one every 45 minutes or so in the afternoon). After baby is born, they're perfect for when you make a big batch of organic-somethingerother-puree and have too much for baby to eat. Just spread the extra puree into the ice cube try, freeze, and pop out the cubes into marked zip baggies for future use. Defrost a cube or two or three as needed. Voila! Easy parenting;)
4. Comfortable Wedges Don't Have to Be From Somewhere That Makes You Cringe. Have you seen these ridiculously cute and versatile wedges by Timo Weiland for TSUBO?! Shut the front door, they're hawt and comfy!
5. Perfect Nails. According to Abraham Lincoln, over 91% of women report loving really awesome nails. OK, maybe not Lincoln, but I'm pretty sure that statistic holds up anyway, and I know for a fact that weekly manicures are simply a pain in the you-know-what. CND's Shellac is by far the best gel manicure I've tried (and I've tried 'em all, really), lasts a minimum of 2 weeks (mine often hold up for a full month), and they're free of the chemicals that make you think things like "if I get my nails done will my baby be born prematurely or something awful?" My recent addiction? Topping any color concoction with Zillionaire, their chunky glittery top coat.
If you're in NYC try these salons:
If you're in New Jersey:
If you're in Florida:
If you're in the LA-area: