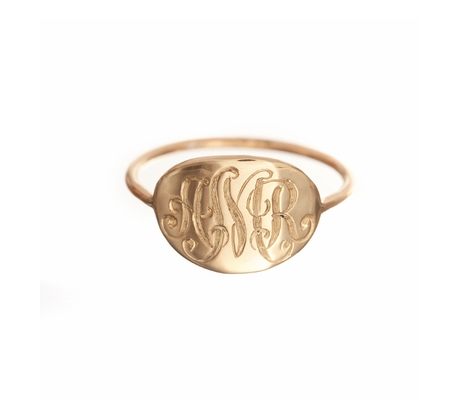 More than tote bags (which recently seem to be the lamest way of showing your initials), I love personalized jewlery much more. There is something more special and intimate towards having your initials encrusted in diamonds, gold, or silver.
Jewelry designer Ariel Gordon's vision is to create simple jewelry that appeals to a variety of women, with the goal of creating jewelry that can transition well and be wardrobe staples, like a favorite pair of jeans or a trusted handbag. In these economic times a woman requires more versatility from her jewelry – a necklace has to work both when she goes out on a date Friday night and when she's at the Farmers Market on Sunday morning. Ariel often finds herself wearing the same necklace for months at a time and she strives to design jewelry for people like her… girls who don't change their jewelry everyday or with every outfit.Ariel Gordon makes spectacular one of a kind pieces that your name can be engraved into. Each dog tag necklace, signet bangle or ring features up to three hand-engraved scripted letters or monograms giving them a really personal and unique look and feel. Available in either 14k gold, rose gold or sterling silver, they can be fully customized which makes the pieces such great gift ideas anyone, especially yourself!
Retail prices range between $99-$930
Order your new ring, bracelet, or necklace here.