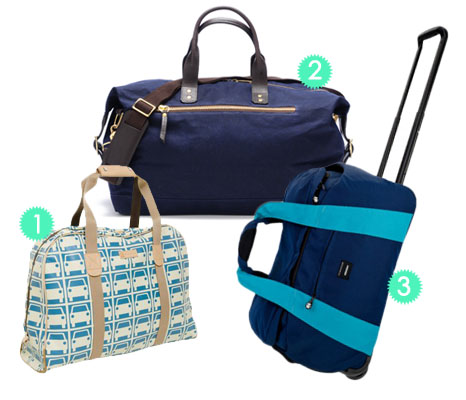 Summer is the season of weekend getaways, as we all know. In fact, I bet you are sitting at your desk right now frowning because you realize the weekend is 4 days away. Until then, you have to deal with your loud co-workers blabbing about their annoying love-lives, people stealing food that is clearly marked with your name, address, and social security number, and your boss making jokes that weren't even funny in 1975, when he was actually young. So take this time to shop for a weekender bag, and melt away those work-week blues:
1. The Orla Kiely Big car print weekend bag from Kaboodle.com : This bag is for short day trips- one or two nights tops. You can fit some flip flops, a bathing suit, and some condoms (beach pregnancies aren't cute) along with your makeup bag perfectly. If you take this bag on a full weekend adventure, you better be planning to spend most of it naked.
2. The Ernest Alexander waxed canvas bag from Porhomme.com: This bag has a shoulder strap, which is great (if you have ever overpacked a hand-strap-only bag you understand why) and the waxed canvas is durable and will probably stand up to any cocktail-related stains. You can fit a weekends-worth of clothes inside, but leave the heavy electronics at home or you might end up with a dislocated shoulder.
3. The Spring Peeper on Wheels bag from Crumpler.com: This bag is perfect for relaxing on the beach while getting some work done too. The padded canvas structure will protect all your valuables and the extending handle and wheels makes it much easier to hoof it around town when you are carrying a laptop, iPad, charger, flat-iron, and other devices that possibly vibrate. For a full weekend of both work and play, this bag is your best bet.
So now that you have several size options (bigger isn't necessarily better in this case) you can make an informed decision and start drinking tonight. Before you know it, it'll be Friday and you can forget about your workweek blues and dive bag-first into your weekend adventure.