If you're like me, your brow routine has taken a back seat.  My sensitive skin is scary-red & bumpy when my eyebrows are waxed, and threading more often than not scared the bu-jeebus out of me. I've thought about integrating an at-home kit that could not only accommodate my needs for more shapely, defined with pencil/powder brows, but something that's cost effective that will help teach me how to get my brows looking bodacious. Ending up like this? Not my cuppa tea.  Currently, I'm thanking my lucky stars for brow expert Christi Harris' at-home solution, a steal with all of this stuff, at only $40!  It's an investment that you gals with scars, light sparse brows, or sensitive skin will want to pick up, so you'll never see bumps, burns or blotchy brows again.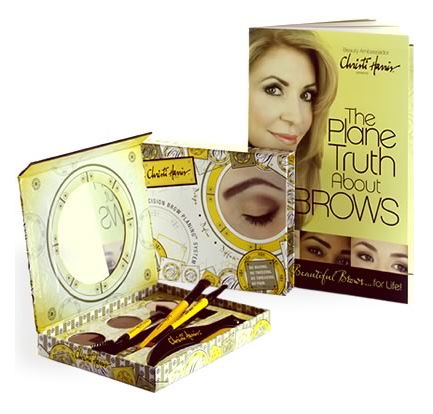 Christi Harris' Precision Brow Planing System includes everything you need to shape and maintain your own beautiful brows for months:
Precision Brow Planer
FIVE makeup brushes
Specialty powders for every skin tone
($40.00); Available at www.christiharrisbrows.com
And if you're feeling real frisky, upgrade with her other amazing solutions to keeping brows look awake and polished!
Lift-N-Lite, left $15.99 can be added to the browbone, undereye & inner corner of eye to illuminate and give the illusion of a more contoured, brighter eye, while Seal-N-Shine, right $15.99 does just that… seals in any color product added to eyes to help eyes shine and sparkle.
Disclosure: All products were provided for review. No monetary compensation was received for this review. All opinions belong to the author.