A little late in the game, I know… but by now I'm sure you've ALL seen Lauren Conrad's new tie-dyed dipped ends, sprinkled with pastel colors to compliment her breezy summer style.  While LC & her girls at TheBeautyDepartment have given you the how-to to get this look at home, some of us (read: me) may be too chicken to get all science project on our own hair.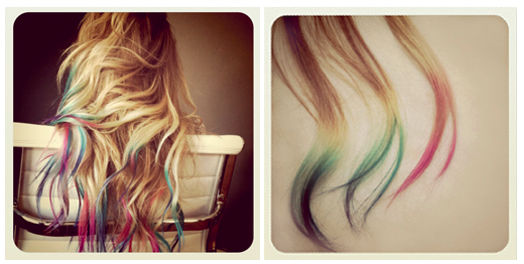 Stopping in to the salon to get all Woodstock '69 on your strands? Colorist and Paul Mitchell Artistic Director, Lucie Doughty shared her tips on how to get the look with the help of your stylist:
1. To get the full effect, have your stylist pre-lighten the hair to a pale blonde by using Paul Mitchell's Dual Purpose Lightener and then the colorist can apply Paul Mitchell INKWORKS over the top
2. Ask to have INKWORKS painted all the way through the strand or just on the tips like Lauren's and then isolate each section in foil.
3. Countless colors can be created from the Paul Mitchell INKWORKS color collection, so you can decide which color combinations work for you (to get LC's look ask for Hot Pink, Green and Blue).
4. Your stylist can dilute them with any of Paul Mitchell's daily conditioners to create beautiful pastel tones (like LC's!)
Best thing about it, is that if you don't dig it… you can always chop off the ends of the hair for a clean, simple look.  Would you tie-dye your strands to follow this trend?