We narrowed down the best contour kit for every skin type and tone. You're welx, dahlink.
It's no secret that we're into contouring. Even if you don't go for the totally perfected look, contouring a little here and there can be the finishing touch your every day makeup needs. The best contour kit for your skin type and tone can be tricky to find. In general we say opt for powder options that can be easier to apply lightly and blend for a seamless finish. But, for some, powders are not the one and need a creamy option. Let's add on top of that skin tone and depth? You're walking through a zillion options.
We've boiled it all down to the best of the best for every skin type and tone below.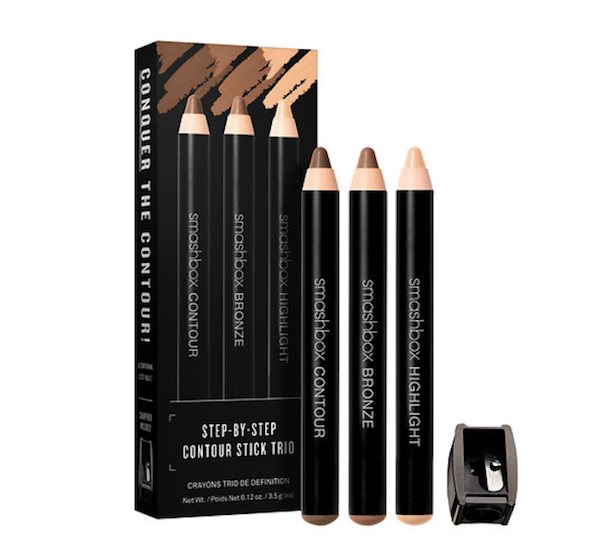 For Beginners
If you've never contoured a day in your life we highly suggest opting for making your life easier by using contour sticks. Powder and cream contour in a pan needs to be applied with a brush or sponge which can make placing the color difficult for true beginners. The Smashbox Step-by-Step Contour Stick Trio gives you two contour colors and a highlight that you can draw straight onto your face. The colors aren't too light or too deep so this set may not work for your exact skin tone. More color options follow below!
For Dry Skin
If you have particularly dry skin, blending powders can be an actual nightmare. For those that need the extra slip you get from creams there is none other than the Anastasia Beverly Hills Cream Contour Kit. It comes in four palettes (fair, light to medium, medium to tan, and deep pictured above) giving options for all ranges of skin tone. Best part is each individual palette comes with six shades to get new looks and custom colors by mixing. Blend away with your beauty blender for flawless contour.

For budget-minded beauties
Sleek MakeUP is finally in the USA and offers a cream-based contour palette that delivers six rich shades in a light-concealer type texture. It's easy to use with a brush, sponge, or fingers and lets you easily customize your look based on skin tone, season, time of day, and mood. We're here for the under $16 price tag, too, because it means you'll finally have a palette that won't break the bank for non-facial contouring. It's our best contour kit for leg contouring to get you through the summer, too.
For Pale Skin
We find that many contour kits are a little to warm toned (read: orangey) for those with very pale skin. It's why we love the Urban Decay Naked Skin Shapeshifter in Light for pale skin. With mixes of pinks, champagnes, and both warm and cool toned browns you get every possible color you need. There is even a mix of creams and powders so you can customize every aspect of your contour game.

For Medium Skin
We love to see warm and cool color options available in contour kits. This Cocoa Contour kit from Too Faced does just that for medium skin tones and it smells just like chocolate. The upper two shades give cooler vibes and the lower are warm. This means you can choose your contour based on your skin tone (warm with warm, cool with cool) or opt to wear warmer colors in summer, cooler in winter. The world's your contouring oyster, and this little palette has serious potential for chin contour action, too.

For Deep Skin
It wasn't that long ago that truly deep contouring options were few and far between. Because everyone deserves to paint their face exactly the way they want brands have finally jumped on the band wagon and are bringing out shades of contour that work for deep and dark skin tones. This Stila Shape and Shade palette is a deep, warm option. It has a matte finish and creamy formula for easy peasy blending with high pigmentation.

For Dark Skin
Finding options that are both deep in color and cool toned may be tricky to find but Black Up has your back and is our best contour kit pick for dark skin. Their Contour Powder kit comes in six shades, the deepest of which is a beautifully cool, almost berry-like tone. This powder formula also has a warmer toned option for those not into the cream, above. Sculpt away and blend with a fluffy brush to get the cheekbones of your dreams.
Love this article? For more beauty, style, travel, and trending topics check out The Luxury Spot on Facebook. Like us and we'll love you back!