Let's open on a serious note for just a second. Everyone at TheLuxurySpot.com sends their thoughts of and prayers to the families of Sandy Hook Elementary, and we are putting our energy behind several initiatives to stop gun violence. Enough is enough- our children and families need and deserve safety just as much as much as food, air, shelter, and love. We hope you spend a little time connecting to your loved ones, showing appreciation, and hopefully showing strangers some love (you never know who is on the edge). Now, onto lighter things.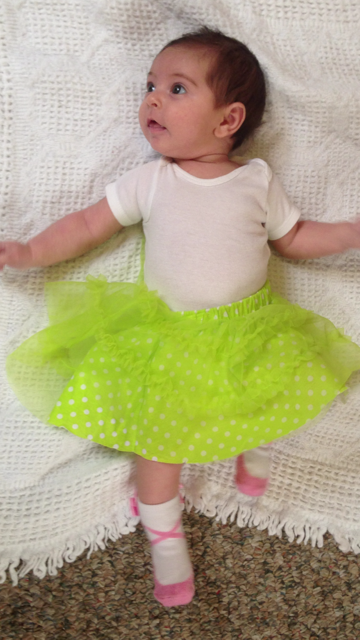 1. If you're going to lay around, lay around in style. Since babies don't really DO much, and Rivkah is particularly easy going (thank all the lucky stars and magic unicorns), I've decided to dress this 7 week old in as many fun things as possible. Why? Well, she looks cute, can't argue with me yet, and I'm kind of reliving the childhood doll experience I never really had. I had two brothers growing up (I still do) that had no interest in girly stuff. They took my dolls and used them in G.I. Joe warfare games- not for dress up and the things I might've liked to experiment with (although I really had fun playing "army guys", too). Btw, I'm totally open to ideas for upcoming outfits. I've been toying with dressing her as a variety of jungle animals. #justsaying
2. I'm finally getting back to real life. I'm kind of glad this post-partum 6 week period just about drew to a close at Christmas time because it extends my "chill out" period by another 10 days or so (and truthfully, it's much needed). Aside from touring the East Coast for TV appearances, I've been doing my best to find a little time to pamper myself both at home to bring the feeling of normal back. I mean, there's nothing like a totally barfy 9 month pregnancy and a 49 pound weight gain, followed by a C-section to throw you the hell off track. So I made a list of little things I want need to get back to feeling good, normal, and desirable again. Truthfully, that's the biggest part. My husband has been awesome about making me feel desired, but somewhere in me I just feel sort of off from all the physical changes that take a few months to repair themselves. So here's my list:
Long, frequent walks (fresh air feels good, walking is low impact and burns calories, and I sort of do my best thinking this way)
Whitening my teeth (more on this in a moment). When you're pregnant, you can't really do much in the way of cosmetic enhancements… so, needless to say, it's been nearly a year since I've had pearly white teeth that stand up to my 4+ cups of tea per day.
A little spa time. There's nothing more poetic and refreshing than hopping on a gritty subway to get to a tranquil, super zen spa massage. This week I hit up the Red Door Spa (more on that, soon).
Spiritual experiences… classes, places, you name it. It's good for the soul.
Intense, ass-kicking exercise class that remind me exactly what my abs and tush USED to feel like.
So far I've checked all of them off my list, just not in the quantity I might've desired. Teeth whitening aside.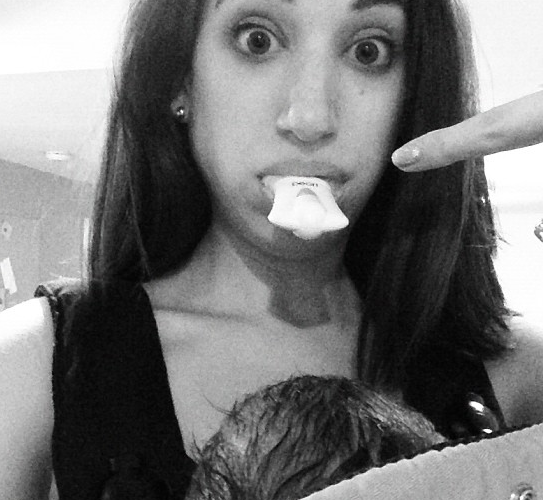 3. Here's how I've been getting pearlier. A friend of mine sent me a Tanda Pearl to try. I feel I must disclose that on any given day I typically drink 3-4 cups of decaf tea, either rooibos or a decaf black blend. Both of these teas are particularly stain-worthy, so I was convinced I'd need a couple intense sessions at a dentist's office to peel back the stain damage I had done in the past year. Not so. The Tanda is a little mouth tray that comes complete with a built-in activation light and some seriously strong peroxide solution. They recommend 2 five minute treatments per day for 10 days, but I just went ahead and used them as I had time. Some days I did 3 or 4 treatments, other days I didn't have time for even one. By the end of about 2 weeks my teeth were about 3-4 shades lighter than when I started… and noticeably cleaner feeling (peroxide has the added benefit of killing bacteria, too). Success! Now, onto spiritual and ass-kicking things.
4. Charles is apparently in charge of my house. Did you ever watch Charles in Charge back in the 80's and early 90's? If you didn't you missed out, because Scott Baio was a total dreamboat. I'm pretty sure I spent a lot of time at 4 years old in 1989 imagining myself as one of the children that Charles would have to look after in his position as a manny. Somehow, without knowing it, I married his Israeli lookalike. Please refer to this side by side of Scott Baio and my husband circa 1988. NOT A JOKE, PEOPLE.