The Burger King red burger is a burger with red buns and cheese, seemingly for no reason at all.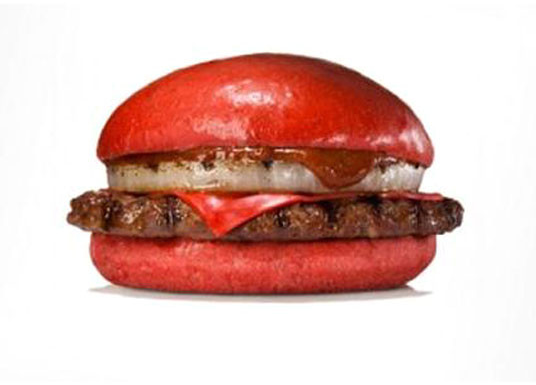 Last year Burger King stunned the world by introducing a burger with black buns and cheese. In a bid to circumvent any claims that they are racist, the fast food chain has now created a burger with red buns and cheese. There's a Burger King red burger and we just really don't know why any of these colors are necessary, or even a good idea.
Called the Aka Burger, the weird looking sandwich comes with either 'Samurai chicken' or 'Samurai Beef', and achieves it's hellishly red coloration with the simple addition of tomato powder. It also comes with a new 'angry' red sauce, a mix of miso paste and chili sauce that will probably set your taste buds, and then consequently your bowels, aflame.
READ MORE: Only in America: A 1,080 Calorie Burger
If eating this bastardized version of a classic beef sandie appeals to you, they start serving in Japan on July 3rd. Unfortunately (or fortunately, whatever), the burger won't be available anywhere else on Earth.
[
via
]