The "SufganiKing" is Burger King's answer to the donut hamburger desire the world has had since hunger was invented.
Unless you're a gluten-free vegan, there's a good chance the idea of a donut hamburger appeals to you. If you can't even wrap your head around what a donut hamburger even is, let me explain — it's all the normal hamburger stuff (a beef patty, ketchup, etc) sandwiched between two halves of a sweet, poofy donut instead of a typical wheat or potato flour bun. Sure, you've probably seen these crazy burgers floating around Pinterest or late at night on Food Network, but until now no chain restaurant has dared to go so boldly where fat loving taste buds have truly desired.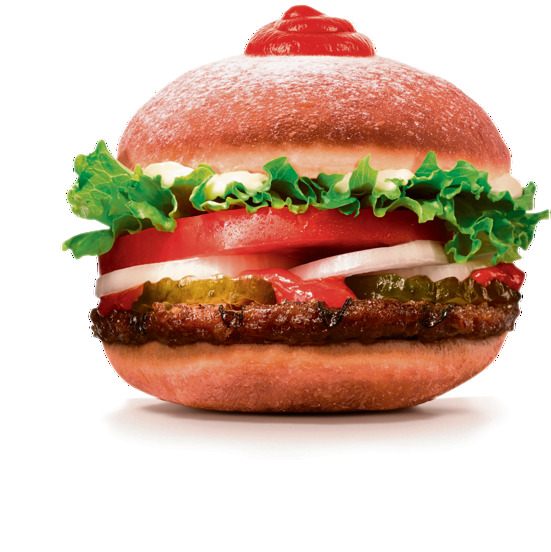 You can thank Burger King Israel for this wild innovation, putting somewhere pretty high up on the list of positive things Israel is known for (superior military intelligence, technology, bible tourism, and now donut hamburgers). The Israeli BK locations aren't just serving up this over the top sandwich to say on top of American food trends, though, because the weeks leading up to Hanukkah are traditionally met with bakeries, restaurants, and homes overflowing with fresh, homemade donuts.
The donut hamburger has been officially named the "SufganiKing" thanks in to the Hebrew translation for donut being "sufganyot." See? You learned something here. Instead of the typical jelly filling this burger will feature ketchup and all the traditional fixins' a Whopper might have, just encased in donut slices instead. The SufganiKing will be available at Burger King stores in Israel from the start of Hanukkah (December 25th this year!) through the end of the holiday on January 1, 2017.
The price will be just under $4, or 14.90 NIS.
Love this article? For more beauty, style, travel, and trending topics check out The Luxury Spot on Facebook. Like us and we'll love you back!