If the beach isn't your thing, no worries, Burmese python hunting is an actual sport in South Florida — and it pays.
If you're wondering why pythons even exist in the Florida Everglades to begin with, that's a good question, and most scientists tend to agree they were introduced by exotic pet owners who either left the area and didn't want to travel with their snakes, or by owners who were just overwhelmed by the size of their slithering friends and figured it was better to release them than convert their backyard swimming pools into giant terrariums for the potentially enormous reptiles. South Florida, does, in fact has a Burmese python problem though, and it's calling in local hunters to help solve the crisis.
The deadly snakes can reach 23 feet in length and weigh about 200 pounds — big enough to swallow your dog, cat, or even local alligators (seriously, this has happened) and now South Florida municipalities in the Fort Lauderdale and Palm Beach areas are actually paying people to get their Burmese python hunting game on.
READ MORE: Kim Kardashian is Selling Her Butt Replicas for $98
Ten Burmese pythons have been captured by snake hunters working for the South Florida Water Management district this week alone, earning them over $2,000 in cash bonuses based on snake length. Burmese python hunting also pays a minimum wage base — $8.10 per hour. So far the longest python captured was 16 feet long and 135 pounds. Hunter Patrick Campbell found himself $350 richer for that. Snakes are priced at $50 for the first four feet, and the bonuses total $25 per additional foot after that.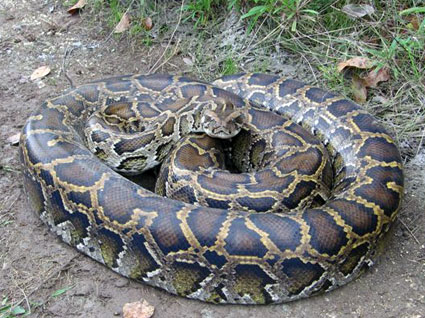 We're not entirely sure what happens to the snakes after they're caught, but we suspect enterprising hunters may end up scoring more cash in the handbag business.
Love this article? For more beauty, style, travel, and trending topics check out The Luxury Spot on Facebook. Like us and we'll love you back!