My routine has become such a 'routine' that I almost blackout, not remembering how my face was washed, toned & moisturized – totally forgetting to grab that new treatment oil I've been wanting to test out, from my bag. I HAVE to make sure to walk right in to the house and put any products I'd like to try, in that testing bubble: within a 2 foot radius of my bathroom sink… having tested hundreds of products, you can imagine the clutter. But – for the new year, clutter-free me I've streamlined to my essential face products AND my essential hand products… my cuticles are totally dreamy.  Follow these easy steps from manicurist to the stars JESSICA (she gets Kim K's cuticles in tip-top shape) and keep your essentials within arms reach all winter for smooth, youthful hands: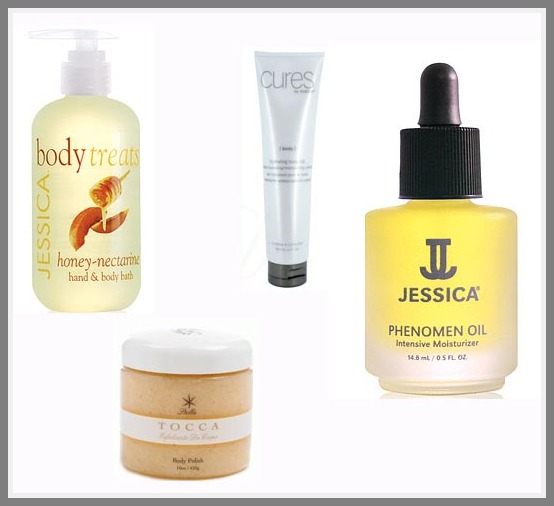 You first have to pay attention to the type of hand soap you use. Try my Honey Nectarine Body Treat Wash ($10.50), which gently cleanses while it nourishes your skin by utilizing a unique combination of botanicals and fruit extracts including Honey, Ginseng, Sage, Comfrey and Elderflower.
Now, here's the trick: keep a body scrub like the ultra-luxurious TOCCA Stella Rich Body Polish ($54) next to the sink and use it immediately after (or even instead of) the hand soap at least twice a week. The scrub will exfoliate dry, dead skin and leave you with glowing, moisturized hands by utilizing crushed olive granules and the healing properties of Italian olive oil, safflower oil and grape seed oil.
Finish with a really rich, unscented hand cream (so it doesn't clash with your scented wash and/or scrub), like CURES By Avancè© Hydrating Body Silk ($12). Apply this immediately after drying your hands or,  even better,  apply the cream to wet hands and let it simply sink in.
Extra Tip: Intensively condition dry cuticle with JESSICA's famed Phenomen Oil ($14.50) which softens cuticles and promotes nail strength and growth. Excellent, too, on elbows, feet, knees — any rough, dry areas that need extra TLC.