Have you felt that your most frequent emotions are constantly shadowed by stress and anxiety? Everyone has certain stressors from work and life in general, but if they are affecting your ability to have fun, your sex life, or even if they are inhibiting you from truly enjoying life itself – you gotta do something about it, girl! Dan-E is the new all-natural women's daily nutritional supplement. And no, it's not some fad type of happy pills! Dan-e was designed for women by a trusted, award-winning gynecologist – Dr. Dan Stein. It was specifically designed to boost energy and mood (without stimulants), ignite desire and passion, support optimal women's health, and relieve normal PMS or menopausal symptoms!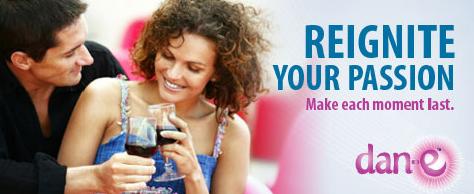 Whoooweee, better sex AND no PMS?! Sign me up. Dan-e makes this possible due its blend of pro-hormones and herbs, vitamins and minerals that are the essential building blocks of energy, passion and a healthy hormonal balance. So when you take Dan-e daily, your body uses these building blocks to restore deficiencies where they are needed PLUS optimize how your body uses its own store of these essential substances to create more energy, increase passion and restore balance. Also, women who use Dan-e have reported feeling younger, more energetic, sexier, more confident and more fulfilled in their romantic relationships! So not only will Dan-e will give you the energy you need to go for that morning run before work, but also ignite your inner sexual fire so you can light some candles, play some Barry White (he always does it for me) and pounce on your hubby when he comes home. Sounds like the perfect women's supplement to me!
Order it for yourself here and give it a try.