It's that time of the year…February. Yeah, it's that other "time of the month" and if you're a bitter single biatch like me, you'll definitely be feeling anything but butterflies in your stomach for your EXs on the 14th. Gotta love that it's on Sunday this year, the worst day of the week—the day that couples do lovey dovey"couples things." Grocery shop hand 'n hand, errand run with each other's hands in their back pockets and snuggle on the couch together laughing about all of the single loners out there, "BAHAHAHA".
Before you crank up the Ne-Yo, grab your bottle of wine and watch The Notebook four times in a row–wash away the bad memories with some super hot bathing products from Lush. Start with a hot bath and throw this EX Factor bath bomb in and imagine he's your EX (or all of them) and watch him dissolve along with all of the lingering bad memories. Let's face it ladies, sometimes you need to rid yourself of skeezers and what better way than with a voodoo doll looking bath bomb that smells like vanilla butta. POOF! Later douchinator.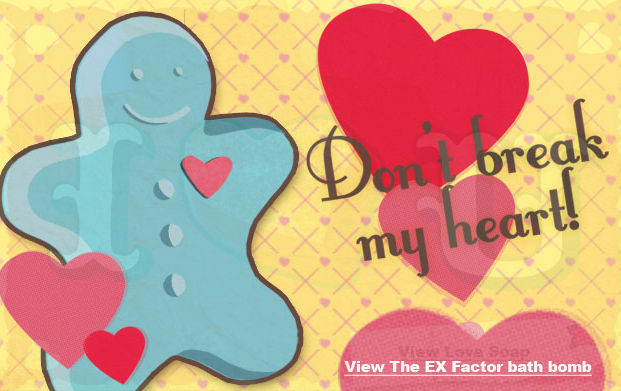 The sulking ends there but the soaping doesn't. Get your hot-self smelling good and ready to date a non-doucher (the wise and quite fly Rev Run says that "Most women don't realize that they're only one fool away from finding the man of their dreams"). Lush has some AH-mazing smelling shower gels that will for sure attract the men like a Jesus to a Madonna.
The Yummy Yummy Yummy is a 2-timin' sweet smellin' son of a gun. It's pink and girly, smells like fresh strawberries and will wash your body and your hair (a multi-tasker for those fast shower days).
The Flying Fox is sure to make you one fragrant sex pot. Jasmine mixed with honey is not just for the bees baby.
For you animal lovin' vegans I suggest the Olive Branch and the (perfectly named) Happy Hippy (100% non-animal tested ingredients). The Olive Branch is definitely a unisex scent but I could smell its clean, fresh aroma on my skin all day. The Happy Hippy does not smell like patchouli to my surprise—it smells like a fresh grapefruit at a Phish concert (well, not really. But it's super fresco).
F the flowers single ladies! Go get yourself some Lush and wash that man right out of your hair (and body). Check out all of the amazing Lush products here or find a Lush store near you.
Disclosure: All products were provided for review. No monetary compensation was received for this review. All opinions belong to the author.