DIY your very own candy corn nails look because life (and your nails) should be delish.
Candy corn is arguably the most polarizing of all the Halloween candy. Some people love it, for whatever reason, and others think it tastes like wax. Be that as it may, there is something about the look of candy corn when it appears in the stores or in your co-workers overflowing candy jar, that just feels right for the Halloween season (and if you're into Halloween, this is the best Hocus Pocus makeup tutorial ever).
I, being in the camp that thinks candy corn is a decoration and not actually edible, recreated the little candies on my fingers in the form of candy corn nails that can't be ignored by any level of sugar addict.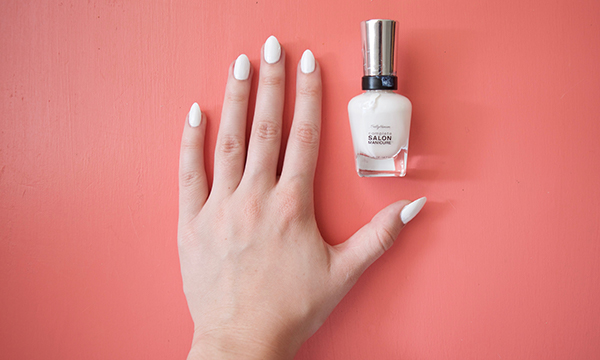 We're recreating our nails into individual candy corn pieces. To get the look you'll need to file your nails into a pointy almond shape. If your nails are on the short side (mine were) you can apply false nails and shape those instead. After your nails are appropriately candy corn shaped, paint them white. It can take a few coats to get a good, even finish with a white nail polish which you will need for this manicure.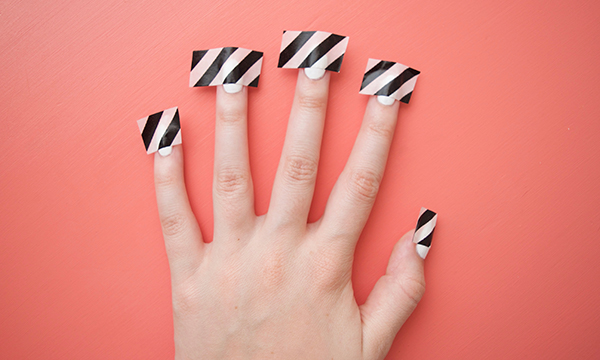 The only tool you will need for this manicure is tape. It will help you create straight lines without nail polish getting everywhere. You can use regular ol' clear tape but it can also be too sticky and peel off your white polish when you remove it. Instead I like to go for washi tape or masking tape, because these peel off your nails much more cleanly.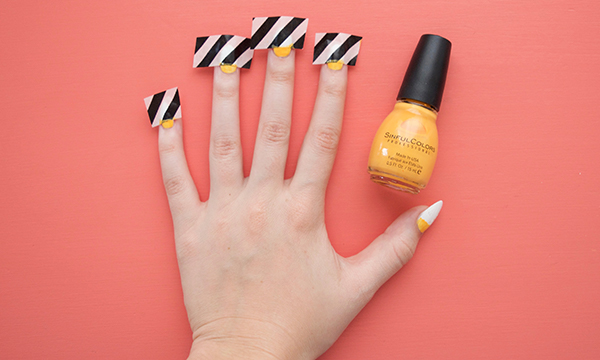 Place the tape about a third of the way down from the cuticle. Make sure you have a good line without bubbles because the polish will definitely run under the tape if there are any bubbles. Paint the area by the cuticle a bright yellow color and let dry. You're probably already seeing how this candy corn nails look is starting to take shape, right?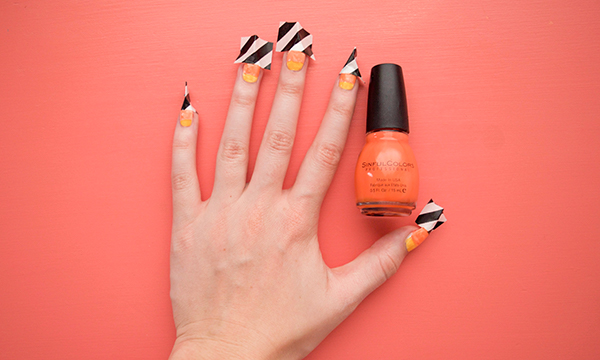 Move the tape down another third of the nail. My tape was losing it's stickiness at this point and kept popping off the nails so I had to tape it to itself to keep them on. Paint the middle section with orange nail polish. Now you'll need to be a little careful not to paint over the yellow polish. If you think your orange polish may go rogue and get on your yellow polish you can place another piece of tape covering the yellow section (so two pieces per nail) for the ultimate protection of your nail art.
READ MORE: DIY Lisa Frank Nails
When the whole manicure is dry, remove your tape and seal it all together with your favorite clear top coat. If you wanted to get extra candy corn realistic, choose a matte top coat. Then show off to your friends and family your nearly edible looking nails.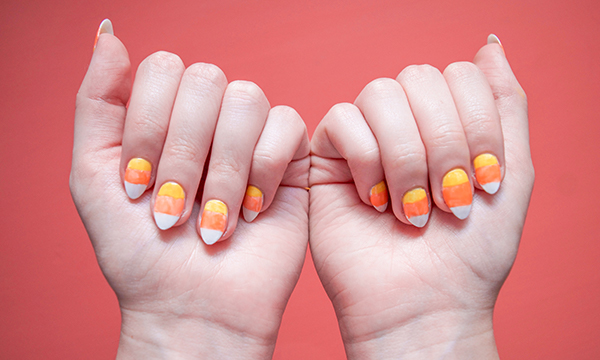 Love this article? For more beauty, style, travel, and trending topics check out The Luxury Spot on Facebook. Like us and we'll love you back!