This is the Hocus Pocus makeup tutorial you've been waiting decades for. You can finally be Bette Midler's character, Winnifred Sanderson, with ease.
We are rounding out the end of September which means Halloween is right around the corner. I don't know about you but I've been gearing up for the last few weeks which includes prepping for costumes and watching as many Halloween movies as possible to get into the spirit. Including Hocus Pocus, obviously, because it's the weird movie I loved as a kid but never really understood the jokes till I grew up.
Bette Midler plays the iconic Winnifred Sanderson with her on screen sisters, Sarah Jessica Parker and Kathy Najimy. All of which meant next to nothing to me as I watched it as a ten year old, but as a mature and legal adult I cannot even begin to express the excitement I now feel over the prospect of DIY Hocus Pocus makeup.
READ MORE: DIY Lisa Frank Nails Tutorial
To get you started in your halloween prep, here are the basics on how to get the Winnifred Sanderson look.
We'll start with hair and eyebrows because they are the most time consuming parts of the Hocus Pocus makeup look. First, part your hair down the middle into two halves. On the very top of your head take a large three or four inch section of hair and make a loose bun. You need to leave a good section of hair in front out of the bun so you can use that to create the hair style. Leave it as is if you want to look like a cool teen, or spray in some texturizing sea salt spray and scrunch the rest of your funky hair.
Take the front sections and tease until they are about twice as big and lay over to cover the buns. Pin in the back and add the rest of your hair to create a sort of poofy updo.
The next step is to erase your eyebrows which, as an eyebrow lover, just hurts me to my core. You could go all out and shave them down but I'm not quite that dedicated (and if you are, please let us know, because you're obviously the hardest of core). So here's how to erase them with some products you probably already have at home–  you will need to flatten your brow hairs. Some people choose to do this with a glue stick but plain old soap and an eyebrow spoolie will do the trick too. Apply your glue or soap and press with fingers until your brows lie flat, and let them dry.
Beauty is the weirdest, isn't it?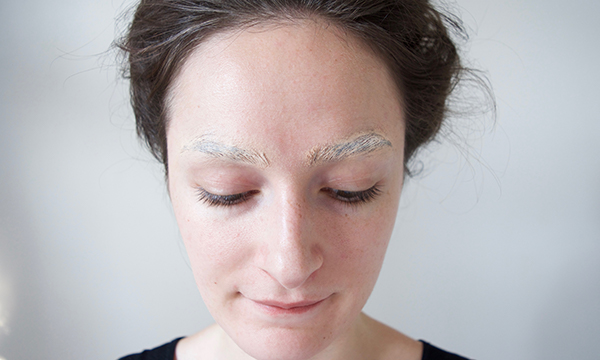 Next you will need to cover them with makeup. Your best bet is to choose a concealer color that has an opposite tone to your brows to cancel them out as much as possible. For those of us with more brow hair than we know what to do with you'll probably be fighting a losing battle. You can look into real special effect makeup and use a wax to cover your brows but there is always the chance of pulling out brow hairs when you do that.
The actual Hocus Pocus makeup part is surprisingly easy, though. Start by applying a foundation a few shades too light for your skin all over everything including brows and your lips. Choose a bright pink blush and apply on your cheeks straight down below your eyes. For eyeshadow choose a dark gray color and apply to your crease and upwards, connecting to your lower lash line. Fill in the rest of the eye with a light gray color, and apply lots of mascara. Lips are last, take a dark red lip pencil and draw your lips to end about a third of the way in on either side.
And now you know how to do your makeup like Winnifred Sanderson, which I know is the most critical information you needed today.
Love this article? For more beauty, style, travel, and trending topics check out The Luxury Spot on Facebook. Like us and we'll love you back!