Donkey milk for skin is the new-ish thing in Korea.
If you're thinking what I'm thinking, it's that it never even occurred to me that donkeys make milk. I mean, of course they do, they have babies and those little donkey babies need to eat– but who knew that people were actually harvesting donkey milk and making it into a commercial source of, well, anything? Donkey milk for skin apparently has real benefits, though, and the Asian skincare market was obviously the first to figure it all out (what on Earth would humans do for beautification if Korean skin technology didn't exist?!). But there's too much to know — like why is donkey milk better than any other animal's milk for our skin? And how much milk does a donkey produce, anyway? I looked to the closest thing to donkey milk for skin experts I could think of — top Manhattan and Miami derms — to satiate my dairy-related curiosity.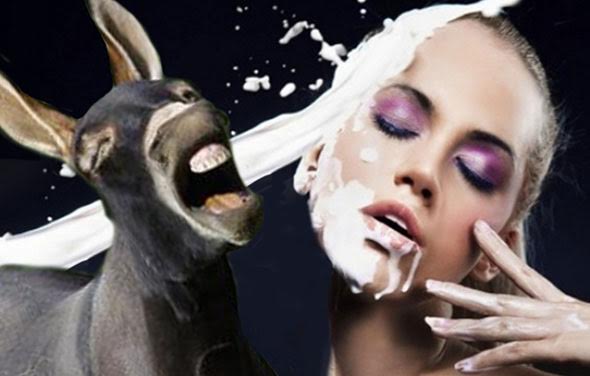 "Donkey's milk is actually closer to human milk than a cow's milk because it has a similar protein, mineral and fatty acid composition," explains Dr. Whitney Bowe. "Donkey milk is very soothing to the skin when applied topically, but it does contain whey and casein, two proteins that when ingested, can trigger acne and inflammation in the skin. So if you use, rub it on the skin, but don't add it to your smoothie."
I like how Dr. Bowe thinks adding donkey milk to my diet is even a possibility (until Trader Joe's carries it, there's no way it's getting on my grocery list). That aside, donkey milk is basically similar to human breastmilk, which makes me wonder if I can just have another kid, breastfeed, and bypass the need for expensive Korean imports like donkey milk face masks. But then I'd have to be the woman making a face mask out of my own breastmilk, and while my life has gone in a lot of weird and unexpected directions, I'm just not sure that's the right direction for me yet.
READ MORE: How do fat cells die? Everything you need to know to kill yours.
But what exactly does the milk of donkeys do for one's skin? I mean, is it just hydration and some protein, because I've got lentils and oils for that? Not exactly, says my esteemed dermatologist friend, Dr. Zeichner.
"Milk is an extremely helpful treatment for irritated skin. Proteins coat the skin, calming inflammation. Donkey milk is the newest craze in skin care because it has a relatively high concentration in protein and less fat than cow's milk, making donkey milk is well suited to treat the skin."
So donkey milk, of all milks (other than the kind potentially sitting right below your shirt right now), is best for skin that needs a little extra TLC. Even Cleopatra treated herself to entire baths of soured donkey milk (not even making this up right now, this is a real humanity alert) because soured donkey milk is higher in AHAs (alpha hydroxy acids) than most other casual beauty substances thanks to the high concentrations of lactic acid. Donkey milk essentially is a very mild chemical peel that adds protein and moisture right back to the skin it's gently exfoliating and stripping of the top layer. How very yin-yang, right?
""Since the days of Cleopatra, donkey milk has been used as a skin softening, smoothing, and anti-wrinkling agent. This is because it contains four times the amount of vitamin C as cow's milk. In addition, it contains hundreds of times more of the enzymes, lactoferrin and lysozyme," shares founder of the Miami Skin Institute, S. Manjula Jegasothy, MD. "Both of these enzymes are thought to provide smoothing of the skin by breaking down and removing dead skin cell build up. In addition, studies show that in the laboratory, these enzymes are also helpful in reducing chronic inflammation, such as that caused by eczema, rosacea and even psoriasis."
Should you feel inclined to load your face up with donkey milk vs any other dairy variety out there, you have a few options ranging from cheap Donkey Milk face masks to something called "Leche de Grisi," type of donkey milk bar soap. If you're looking to buy the milk straight up, no additives or other beauty ingredients, we've heard it's available on the black market (yes, there's a black market for donkey milk) for about $45 a liter. What a time to be alive, people!
Love this article? For more beauty, style, travel, and trending topics check out The Luxury Spot on Facebook. Like us and we'll love you back!