Ear makeup is a thing, people. We're not kidding.
High fashion never fails to amaze with what kooky thing will be hot next. That's right, you read the hed correctly — ear makeup is actually a thing and it shows no signs of slowing down. It first started in 2014 at an Anthony Vaccarello show. Models walked the runway with inky, dip-dyed ears. But ear makeup didn't really become a thing until Spring 2016 fashion week, courtesy of Louis Vuitton and Opening Ceremony. It resurfaced again last month with Proenza Schouler, proving that humans are still into the concept of ear makeup for reasons we still cannot quite explain.
Gilded earlobes are the new fad because they are dramatic, unexpected, and almost look like jewelry. Because we know that this may not be something that you actually want to wear, we had to give it a shot.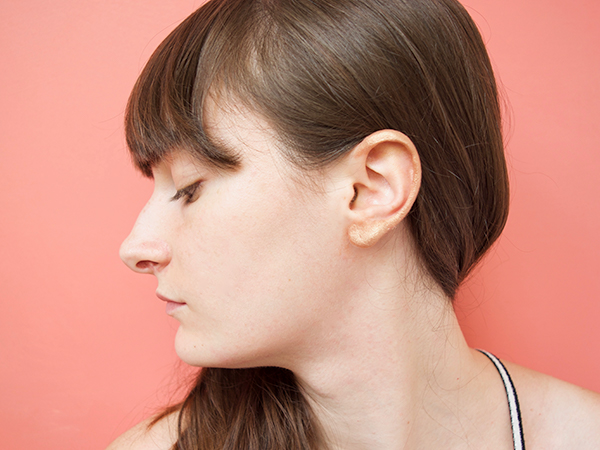 Starting with the dusting of color, I tested two popular ear makeup looks.
The best way that I found to do this was quick and dirty. I just dabbed my finger in a golden highlighter and rubbed it on the outline of my ear. I had to use my finger because it was too hard to paint my own ear with a brush. If you want to try this at home you'll need the assistance of at least two mirrors (also, if you have a medical school degree this is a good time to use it). It's like when a hairdresser uses another mirror to show you the back of your head, but positioned to the side so you can see your ears without your eyes bugging out.
Besides in bright lights, the highlighter wasn't noticeable. So if glamming up your ears is on the agenda, use a color that stands out against your skin tone. Some fashionable favorites are a bright silver, golden glitter, and primary yellow.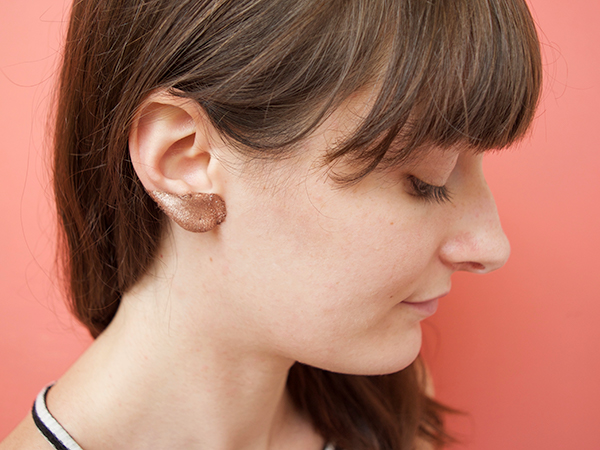 Dip dyed ears make things more complicated. Tried as I might, I could not get a straight line on my own ear. Damn you, ear makeup. To make things easier I called on the help of my very bemused boyfriend to clean up the lines. Once I had a straight line to go off of things were much easier.
READ MORE: How to Wear the Pantone Spring 2017 Colors on Your Face
For this ear, so you could actually see the makeup, I used a dark copper liquid liner. Unfortunately the liner dried weird and patchy, so I applied a layer of L'Oreal Infallable 24 Hour Eyeshadow in Amber Rush to even it all out. Again I used my fingers to apply the powder because my hand-eye coordination with two mirrors was not working for me.
The ear makeup trend certainly won't be around forever. Just imagine Sephora carrying ear makeup kits! It will make your hair glittery, which I actually liked, and at the end of the day it just washes off. Here's to you, fashion week, for making ear makeup a thing we get to try.
Love this article? For more beauty, style, travel, and trending topics check out The Luxury Spot on Facebook. Like us and we'll love you back!