Try these iconic makeup looks every day of the week. You're worth it.
As much fun it can be to stay on top of every new trend, vintage makeup looks never get old. Iconic makeup looks are instantly recognizable but not always super wearable. Remember 1930's makeup? Not always office appropriate. Today we're sharing three iconic makeup looks from most day time appropriate wearable to something maybe better suited for a costume party.
1. Marilyn Monroe

You can't really talk about iconic makeup looks without covering Marilyn Monroe, right? This is the look every vintage loving vixen wants to wear day in and day out. Start off with an even matte base. If you feel like contouring, go ahead, just don't over do it. Same goes for blush.

First up is eyes. Marilyn had those sleepy heavy lidded sexy eye looks going on at all times and now you can too. Line your upper lash line from inner corner to outer with a thin black liner (try our eyeliner dots technique if you need help). You can ever so slightly thicken up the outer corner but don't get flicky with it.

To enhance the sleepy eye effect take a little brown eyeshadow and apply to the inner and outer one third of the lower lash line. Keep the center section shadow free to make sure you don't look too tired.

Pop on some falsies and get ready for the lip.

Shiny red of course! This is the Makeup Geek Cosmetics Plush Creme in Trophy Wife. Make sure you get a crisp lip line and watch out for lipstick on your teeth.

Practice your big open mouth smile and you can eve pop on a faux mole to seal the deal.
2. Brigitte Bardot
I absolutely can not be the only person in the world who thought Brigitte Bardot's first name was Bridget, right? I just learned that today and I feel like my whole back knowledge of celebrity icons is a lie. Anyway, for Brigitte, start off with the same base as Marilyn. This look is almost only on the eyes, creating a heavy black smoky look.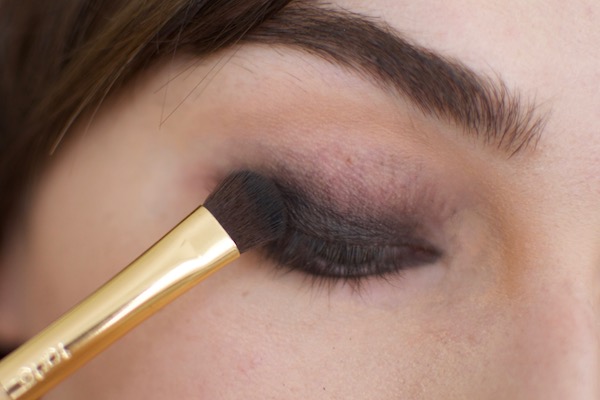 Start by blending black eyeshadow from your lash line upwards. You could also use a kohl eye pencil or eyeliner, just make sure it's super bendable.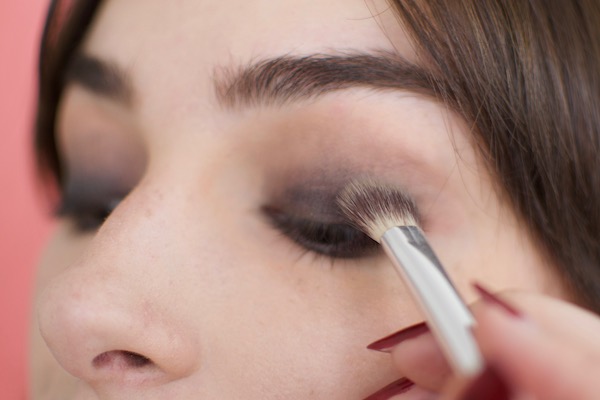 Then, blend all that black shadow (or liner) really well with a clean fluffy brush. Think french dream babe, not '90s grunge. You can consider this a bonus diy bridal makeup tips addition.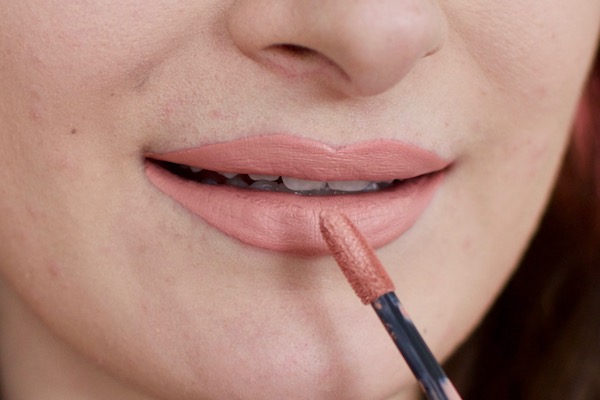 The Bardot lip was a nude with a dark lip line. Because the lip line was so dark and defined, go in with your lipstick first. This is the NYX Luv Out Loud lipstick in Confident. And if you're overloaded on nude shades, read up on our lipstick storage ideas.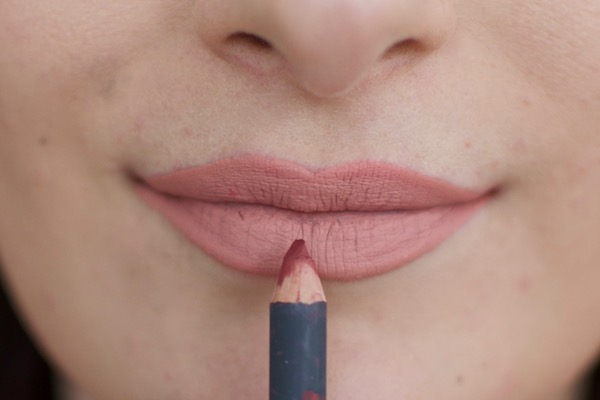 Then using a darker lip liner, line the outline of your lips and feather it inwards to blend.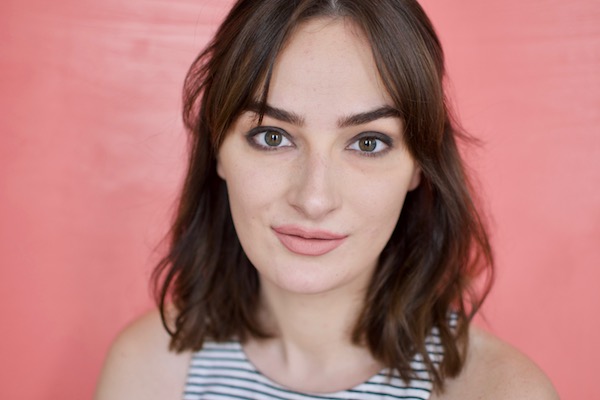 Finish by parting your bangs and practicing not smiling.
3. Twiggy
The '60s Twiggy eye is possibly the most easily identifiable of the iconic makeup looks. Those eyes, you just can't forget 'em. Drawing on the Twiggy liner is a bit odd at first. You want a thin line overall but instead of going up at the outer corner for a cat eye flick, follow that line downwards.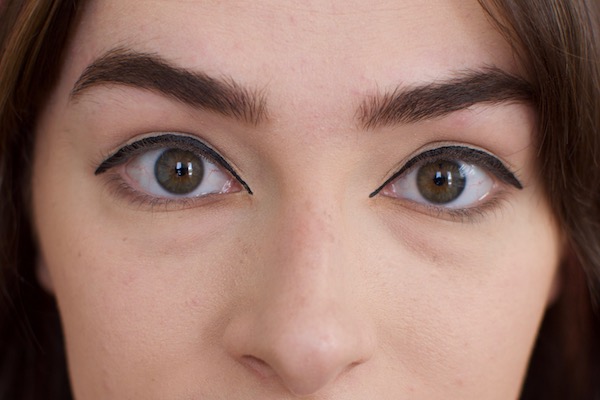 This creates a full crescent moon shape with your liner on each eye. Make sure that liner extends to your inner corner as well.
The liner is the most important part of this makeup look, but pair it up with a deep crease and you've got the Twiggy look locked in. The liner I used is the Kat Von D Tattoo Liner which does not budge, but if you've got something budgy to work with, do this eye shadow work first. Start off with a big fluffy brush and a shadow just a few shades deeper than your skin tone.
Next go all in with a tiny amount of black eyeshadow, following the curve of your eye. Seriously, less is more here, you can always add more in later if you wish.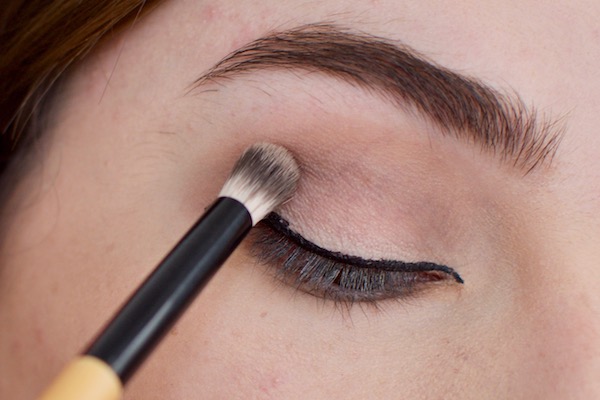 Blend out that black shadow to reveal your newly deep set eyes.
Last thing for the eyes is lashes. Pop some falsies up top then have a glass of wine to steady your nerves for the bottom lashes. The iconic lower lashes were drawn onto the skin with shadow or liner, so line it on up. This is the most difficult part of the Twiggy eye makeup look so make sure you take your time to get thin straight lines radiating out from your lower lash line.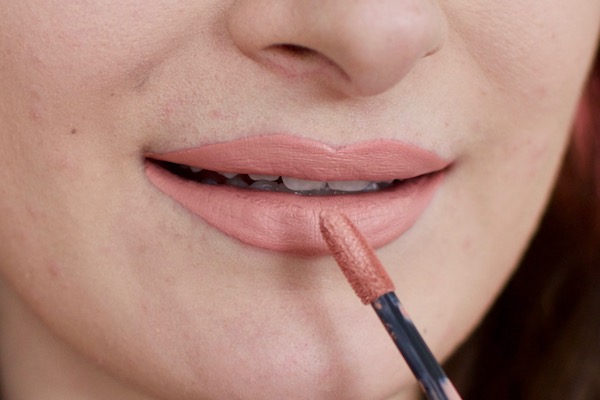 Top it off with a light lip. This is the same NYX shade used above.
Stare deeply into the souls of passers by with your large and in charge eyes.
Love this article? For more beauty, style, travel, and trending topics check out The Luxury Spot on Facebook. Like us and we'll love you back!