Lately, for good reason, I've been very concerned with making my global footprint a smaller size. ( My shoe size, however, is a steady size 8 and perfecto)
I used to be one of those Birkenstock wearin', hemp accessorizing, field dancing chicks with the daisy in her hair.  Then I graduated high school and became concerned with city life– but my hippy, environmental, dread locked roots are still haunting me…
I drink out of Nalgene bottles.  So, shoot me. I like the environment!
Lately, I've been becoming one with Mother Nature with baby steps.  It sometimes is hard, living in a city that most of the time, isn't too concerned with environmentally friendly living. One of my baby-steps is bringing my own bags to the grocery store.  Mostly because I can't go 2 days without stopping in to Trader Joes to see what new shipment of broccoli they've gotten in.  To bring said broccoli home with me, I use these amazing Blue Avocado reusable bags.  I got myself the Full Kit, which includes all of these kick-ass satchels, which replaces 15 bags per trip:
I'm freakin' obsessed with the POD bag….I have it on my key chain, I'm not kidding. It just fits onto my key chain, and then carry my broccoli home within the Veg Produce bag, within the Pod!… I'm in love with a pod bag. No big deal.  Each Pod bag replaces 3 plastic bags for each trip!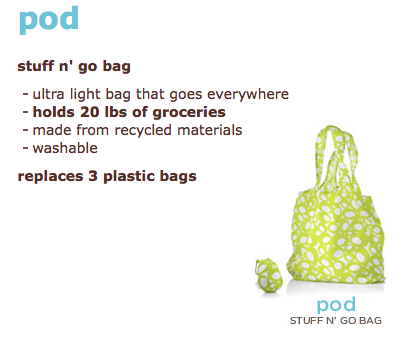 And make sure- if you order any of these amazing insulated wonder-bags, to use Coupon Code GOODKARMA5 for 5% discount on any order over $60
After I come home with my broccoli and get myself fed, sometimes I wanna pamper myself, after my long schlep to Trader Joe's, I'm ready to papmer myself, in an eco-friendly way of courseeee.
After all of my scrapping through the crowds in the hummus aisle, I'm ready to get my nails back to normal–Â  I use my Vegan, Biodegradable, Alcohol Free, Acetone Free, Rosemary & Spearmint scented nail-polish remover from PeaceKeeper
All profits, after taxes, from the sale of this biodegradable, vegan nail polish remover go toward

PeaceKeeper

's initiative to help provide education and vocational training for women who have been exploited or live on a dollar or less a day.
and free shipping on all orders, people. What more do you need in a nailpolish remover? Other than the fact that my cuticles actually smelled, looked and FELT better after using it– which is something i cannot hold other acetone removers accountable for.
PeaceKeeper also has a rad lipbalm which I use in-case I have any smooching encounters a Woodstock-esque male , jk…kinda.  Their nailpolishes, and nail renewal oils aren't anything to shake your bong at either.
Blue Avocado Full Kit $69.99
Blue Avocado bags are available online at BlueAvocado.com, while the PeaceKeeper products are available at  IAmaPeaceKeeper.com , WholeFoods , Apothecary at Macy's , Earth Fare and other specialty stores.
I'm eco-infatuated with eco-friendy fun-time goodies!
Disclosure: All products were provided for review. No monetary compensation was received for this review. All opinions belong to the author.