So, I just got this stuff on Friday, and immediately had to try it out.  Let me tell you… I've never had such a great weekend for self-esteem in my life!
Sensai Mascara 38° Mascara Collection made my eyes 'sparkle' and my lashes 'flutter', or so my friends and choice stud-muffins told me.  I'm not naturally gifted in the eyelash division, as they are super blonde and kinda stubby.  Thankfully these two products made me and my peepers sparkle and shine like a star! My superstar lineup: Sensai 38 ° EyeLash Base  and the Mascara 38 ° .
I'm a big fan of the Volumizing, but it also comes in Separating & Lengthening and brown shades of the original Mascara 38 °.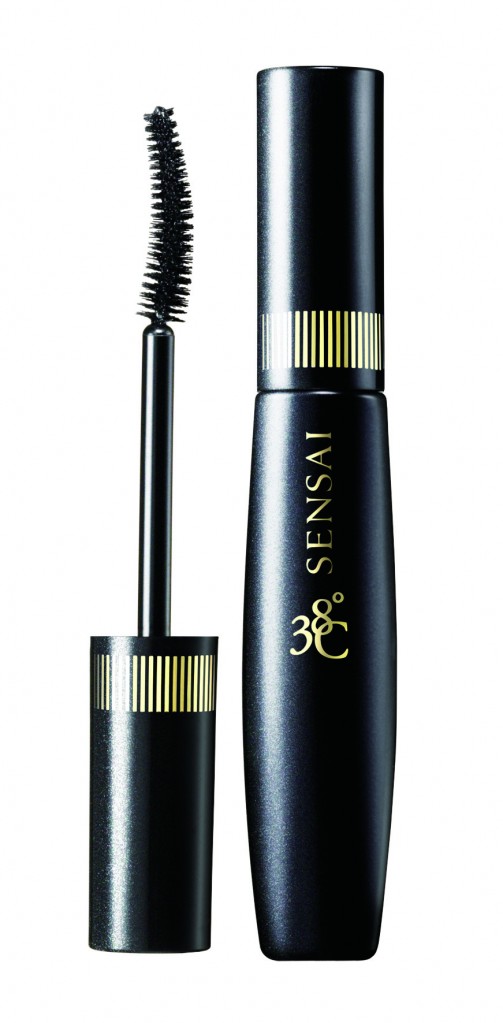 I started off with the base. No clumping! And don't go too wild… a little goes a long way.   The teeny weeny wand deposited a little whitish protecting and lengthening coat of waxy fluid on each of my lil' lashes, making a killer base for the mascara to glide over.  When it's time for that, the 38 ° Mascara, the fast drying formula comes with a double-sided brush ( pictured above) that manually adds volume in all the right places ( the outer corners). All the while slightly emphasizing the inner lashes with just a smidgen of color.  All dries quickly, forming little tubes, over  the lashes, that will stay put in any situation you're handed throughout the day ( or night).
Done lookin' glam? Just use some warm water, or eye makeup remover to witness the  wee tubes slip right off of your lashes.  You will then need to make sure you have a solid non-slick surface to jump for joy while you look at yourself in the mirror- sans racoon eye.
Sensai 38 ° Base ( $28)  & Marcara ( $32)  are all available at Bergdorf Goodman or by calling Kanebo Direct Order at 866.271.6815
Disclosure: All products were provided for review. No monetary compensation was received for this review. All opinions belong to the author.