The perfect way to make any cocktail party a success is to make your guests walk away with memories they'll be talking about for days, and tricks that they want to steal.
Well, I can't say your secret will be safe from the masses (ahem, this isn't rocket science here, bub) but you'll get serious kudos for your artistic effort on finger foods.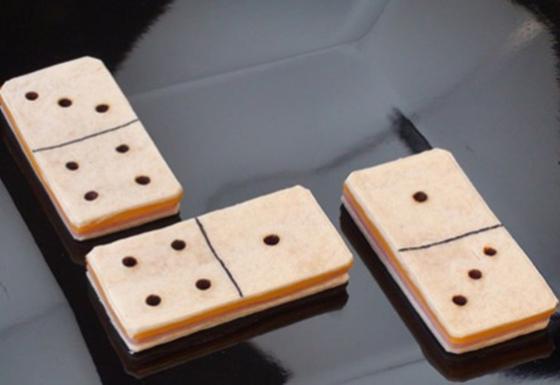 For your next game night, or art deco style party,  these will satisty any caliber tooth.  Easy to make flatbread sadnwiches with a variety of flavors can be made and cut in to small domino sized sections with a cookie cutter for even perfection. Use food coloring or your choice of sauce to carefully dot for a domino style. If sandwiches are begging to be substituted with cookies, chocolate sauce is begging to dot said cookies with a domino flair.
For sandwichy or cookie-licious recipes, with domino sized cookie cutters & serving trays to match, check out MarthaStewart.com – she IS the queen of class for any occasion, amirite?!