Remember how mom always said don't play with your food?  Come to this year's Brooklyn Ball and see an edible food instillation by artist Jennifer Rubell, a kid who didn't listen!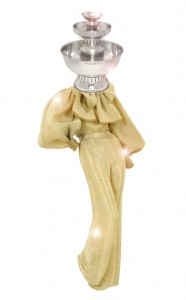 This year's Ball celebrates the landmark costume collection partnership between the Brooklyn Museum and the Metropolitan Museum of Art.
The ball takes place Thursday, April 22, 2010 from 6:30 p.m.–12 a.m at the Brooklyn Museum of Art.
Individual tickets are available for $500, $1,000 and $1,500. Tables range from $5,000 to $50,000. Tickets may be purchased online through Monday, April 19.
Can't quite afford tickets to the ball? You can still attend the fashionable after party!
The after party is from 9 p.m.–12 a.m. in the Martha A. and Robert S. Rubin Pavilion, 1st Floor
The party features:
Preview of the landmark exhibition American High Style: Fashioning a National Collection
Designer novelties by Band of Outsiders, Philip Crangi, Patrik Ervell, 3.1 Phillip Lim, Opening Ceremony, Rodarte, and Slow and Steady Wins the Race
Giant piñata filled with a dessert surprise by Jennifer Rubell
Fashion fortunes by the Bumbys
DJs Leo Fitzpatrick, Nate Lowman, and David Benjamin Sherry
Open bar
Festive and fashionable attire
Ticket Prices
Member Ticket: $50
Individual Ticket: $75
Two Individual Tickets: $125
Benefactor Ticket: $150
Tickets may be purchased online