Gluten-free rum chocolate nut meringues that are kosher for passover, too? You win. We all win.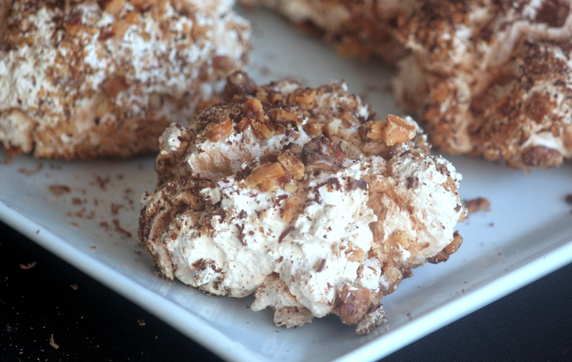 Rum and chocolate and nuts– does it get any better than this? These extra large meringues are giant balls of pure, gluten-free and kosher-for-passover goodness you can sink your teeth into. Eat them on their own, dunk into tea or coffee, or serve with sliced berries for a perfect post-meal dessert. Recipe by Sarah M. Lasry.
READ MORE: Coconut Cream Crepe Cake
Non Gebrokts & Pareve
Makes 12 Large
Prep Time: 10 minutes
Bake Time: 2 hours
Ingredients:
3 cups sugar
10 egg whites
3 tsp. rum extract
1/2 cup hazelnuts or almonds, finely chopped
1/2 cup shaved bittersweet chocolate
Directions:
Pre-Heat to 400F. Line a large baking sheet with parchment paper.
Pour the sugar onto the parchment lined tray. Spread the sugar out evenly, and then place the pan into the oven for about 7-8 minutes until the sugar begins to turn brown around the edges.
In a clean bowl of a stand mixer, whisk together the egg whites on high speed until they begin to froth up.
Pour the hot sugar slowly into the whisking whites. After adding all the sugar, add the rum extract and continue whisking for another 8-10 minutes at high speed until they have formed stiff peeks and can hold their shape.
Turn down the oven temperature to 225F.
On large plate, mix together the nuts and the chocolate.
Taking a large serving spoon and a knife, start to shape your meringues.
Scoop up an extra large dollop of the meringue mixture, then use the knife to roll and scrape it onto the plate with the nuts and chocolate. Roll the meringue in the nuts and chocolate until it is fully coated.
Scoop up the meringue with the spoon and knife and place it on to the prepared parchment lined tray. Repeat spacing the meringues about 2 inches apart.
Place in oven and let them dry out and bake for about 2 hours. They are ready when the outside is hard and the inside is slightly soft. Remove and let them cool completely.
Store in airtight container.
Prep Ahead Rules: You can make these meringues up to 2 weeks ahead. Store in a dry place.
[ Recipe from:
4 Bloggers Dish: Passover (Modern Twists on Traditional Flavors)
]