Whether your main man is your dad, boyfriend, husband, part time lover, gay bestie, or a little boy- we've got some great gift gift ideas that'll suit everyone on the list.
1. Organic Pajama Bottoms for Him. What's better than organic cotton pajamas? Nothing, especially since the drawstring waist means you'll be able to wear them too (steal them from Dad, borrow them from bestie, or just never actually give them to your husband). These Coyuchi pajamas are under $40, organic, and mega cutesy.
2. For the iPhone Addict. This Alano iPhone case is made in either 4/4S size or 5, and looks just like an antique book. I mean, c'mon, how cute is that? $59.95 at Portenzo.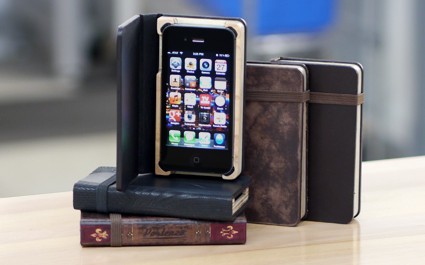 3. For the Guy Who Works Long Hours. L'Occitane's Shea Butter Eye Balm screams out "gender neutral!" while fulfilling its duty to hydrate without much fragrance at all. Your man won't be intimidated by it as a girly product, and at $34 your wallet won't be intimidated by purchasing it and suggesting he take a few days off to relax like a Frenchie, perhaps.
4.  For the Tiny Fashion Boy. Blume Girl's products for kids are pretty ridiculously cute in every possible way. I happen to love this tee that comes complete with the pocket hanky look. Suggest to the little boy in your life that he pair this with skinny GAP jeans, Chucks, colorful socks, and a chipper attitude.
5. For the Foodie. Have your guy make you an authentic Mexican hot chocolate this winter with his new gift- the real, deal chocolate grinder thingy that shaves little bits of tasty, bitter South-of-the-Border goodness into your cup. Complete with 4 discs of premium cocoa, of course. $26 at OpenSky.com