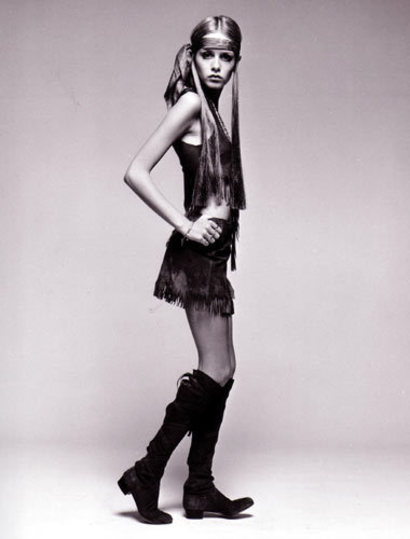 Halloween is basically tomorrow. I mean, who can celebrate on a Wednesday, anyways? So, yes, tomorrow is officially Halloween. If I wasn't so lucky as to have a couturier coworker (Gary) who recognizes the importance of such things as Halloween costumes, I would not have a costume ready to show off tomorrow. This probably means that many of you are also unprepared in the costume department. Don't fret – I have two last minute suggestions:
1. Be a kitten. (Because that's not cliché) Actually, I'm being a kitten, but it's more of an haute couture kitten (again, thanks to Gary's Halloween Atelier). If you have to be a last minute kitten, just wear all black, a pair of amazing heels, and a cat ear headband. For some reason, they're really easy to find this season. My particular fave is this set of cat-zebra hybrid clip-on ears from a-thread.
2. Be Twiggy. All it takes, really, is eyelashes and and a mod – or all black – outfit. Who am I kidding? I would make all black work for any costume. But seriously, if you want unmistakeable Twiggy lashes, I have the perfect mascara: Lash Act from mark in blackest black. It's buildable volume, so you can go all Twiggy-ed out for Halloween, then use it everyday thereafter!