Every now and then there's a little voice inside my head that says, "go back to your childhood roots, find the ocean." And so, this past weekend, instead of traveling to the mountains as I normally do (New Yorkers tend to escape the city on the weekends, the combo of hot pavement and no action makes us ill) I headed to the Hamptons with my dear friend Aly, about a gazillion bottles of Hard Candy nail polish, and excitement. Why? Because it would be a brief, but fun reunion with old friends and new, and a chance to experience the new Cadillac ELR firsthand. If you haven't already heard about the ELR, it's basically an electric car on crack. Plug it in, commute to work without gas, or go on a roadtrip and it'll switch back over to fuel-consumption mode… all while looking super dreamy.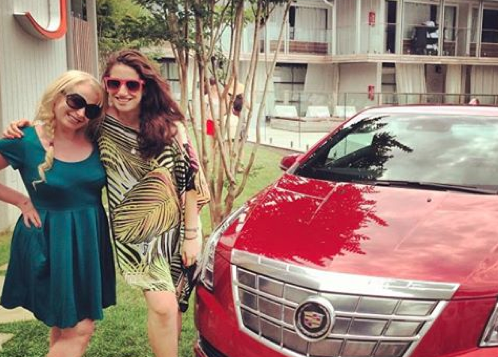 It was sort of perfect. I sat, ate a variety of salads, tweeted and instagrammed my heart out (I'm @brycegruber on both!), and enjoyed partial shade as I watched what looked sort of like MTV Spring Break '98 unfold at the Montauk Beach House. Aly sipped rose wine, enjoyed testing new SPF 30 products every 10 minutes or so, and painted her nails a bright cobalt blue as she took in the view of over-drunk 30 year olds grinding to 90's hiphop and allowing the Heineken to convince them that the year was actually 2001 and they were only college freshmen.
So here's what I learned this weekend:
1. The Cadillac ELR is super dreamy, and I'd rather grind with this car than any 30 year old in the Hamptons. Ever.
2. Cobalt nail polish is totally having a moment, and I recommend the shade to anyone with any skintone, ever.
3. Some girls can dance for 6 hours straight without any need for food, water, or a bathroom. I am not one of these girls.
4. Hesta Prynn is a damn good DJ, and if anyone could possibly get me to dance without any possibility of a bathroom break, it'd be her.
5. My pregnancy appeared to be fat to a lot of people, because everyone kept offering me drinks. I had to explain several times to people that my bump was a baby, not a beer gut.
6. Anyone over the age of 34, white, and with offensive ombre hair color should never, ever, ever, twerk publicly. And by publicly, I mean on top of a lounge chair in front of 150 people with iPhone cameras locked and loaded. Also, if you're of this age and considering ombre hair, it's cheaper to just get a life coach to steer you in better directions.