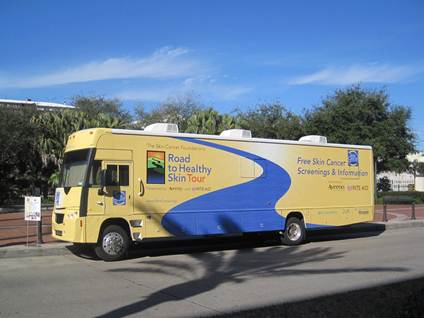 We love a great tan as much as the next girl, but tanning doesn't always lead to healthy glow. Sometimes sunbathing can lead to skin cancer. Aveeno brand is taking a very active role in the fight against skin cancer by teaming up with The Skin Cancer Foundation to present The Road to Healthy Skin Tour – and the tour will be making a stop in NYC this Sunday, April 15th at the More Magazine/Fitness Magazine Half-Marathon. There will be volunteer local dermatologists on hand to offer free full-body skin cancer screenings in the Tour's 38-ft RV at 72nd St and 5th Ave. The best part is, you don't have to be a runner to get screened. Drop by before, during and after the marathon (from 8AM – 12PM) and you can enjoy a quick, easy and painless screening.
Aveeno will also be giving out sunscreen samples and coupons that can be used on the latest sunscreen collections. You'll also receive potentially life saving information about skin cancer and how to better prevent it. For more information visit on the Road to Healthy Skin Tour visit www.aveeno.com  or www.Skincancer.org/tour.
Sponsored by Aveeno Brand.