Add these healthy cheeses to your diet!
Cheese is one of those foods you can't help but love! There's nothing like a good grilled cheese sandwich, a cheesy omelet, or some cheese fondue to warm things up on a cold day. It's a fairly fatty protein, but still an excellent source of nutrients.
Not sure which cheese to eat? Here are the 12 healthiest cheeses you can find:
Swiss — In Swiss cheese, you get a healthy dose of Vitamin B12 with your protein and fat. It's not only one of the healthiest cheeses, but one of the tastiest as well!
Manchego –– Hailing from Spain, Manchego cheese contains less fat and protein than most of the other cheeses on this list, but is one of the delicious options that can only be found in upscale supermarkets and grocery stores.
Mozzarella –– Nothing is more delicious on pizza than fresh mozzarella, which turns out to be a lower-calorie cheese than most. It's rich in protein, but you can often find low-fat versions made from skim milk.
Cheddar –– While cheddar may be a bit higher in calories than most other cheeses, it's still rich in protein and calcium–which will nourish your muscles and keep your bones growing strong. Plus, it's one of the most versatile cheeses for cooking.
Ricotta –– This cheese is made using whey, meaning it's lower in calories and fat while richer in protein than most cheeses. It contains special nutrients that will promote post-workout muscle repair more effectively than other cheeses.
Monterey Jack –-For a soft, mild-flavored cheese, it doesn't get better than this! It's a bit high in calories, but it's rich in protein, calcium, and other important nutrients–plus, with hot pepper flakes, it's one of the tastiest.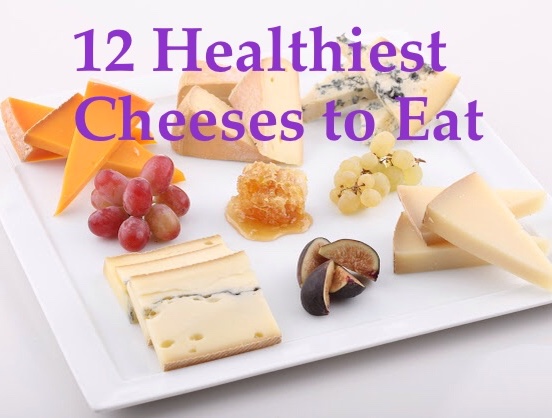 READ MORE: Yum Alert: Portobello with Spinach and Cheese
Colby –– Originally from a town in Wisconsin by the same name, this cheese has a milder flavor than sharp cheddar but contains the same nutritional value–making it one of the best "table cheeses" around!
Gruyere –– For a strong, highly-flavored cheese, you can't go wrong with Gruyere. It's a very low-sodium cheese, thanks to the fact that the cheese-makers can ONLY add salt to the rind of the cheese. If you're trying a heart-smart diet, this is the cheese for you.
Blue –– A bit of blue cheese goes a long way! It may contain more sodium than the other cheeses on this list, but you'll find that it's a great source of protein. Plus, you know it's absolutely delicious when crumbled into your salad or an omelet! Just avoid blue cheese dressing, as it's higher in calories than the cheese itself.
Parmesan –-This is the cheese that goes into EVERYTHING–from pasta to vegetables to scrambled eggs to salads. The paler versions of the cheese tend to be less healthy, so it's always best to buy fresh Parmesan and grate it yourself.
Robiola –– This Italian cheese is healthier than low-calcium Brie, but is just as soft and tasty! It's the perfect healthy cracker-topper, and it has a buttery rich flavor you can't help but love. Best of all, it's loaded with healthy nutrients!
Cottage –– If you're looking for low-calorie and high nutrition, this is the cheese for you! You get far fewer calories per serving of cottage cheese than you do with most other cheeses, but more protein in each bite. The only downside: it's usually fairly high in sodium, so look for a low-sodium option if you're going to go all out on the cheese!