I had a medium-length talk with one of my friends from high school yesterday about why she never seems to find decent guys from her internet dating pursuits. I asked her to send me screenshots of her OKCupid and Match profiles, just so I could see if maybe an outside opinion on photos/text might help. While her profile wasn't as bad as the one below, it did help me compile this list of things to never do, say, write, or feature on your dating profile: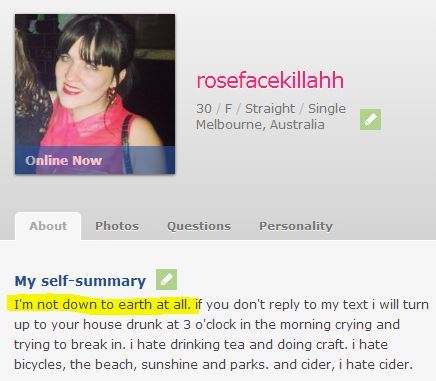 1. There's a chance you're a totally needy girl, but let's pretend you're not for a minute. Saying things like "I love compliments and gifts" translates to the male mind as "I'm emotionally insecure and can't buy my own stuff because I may or may not be employed. TBD."
2. Writing too much. Literally nobody cares about your college study abroad program until they meet you and share a meal.
3. Photos of you with an ex. Kind of a major red flag when your ex creeps up before even the first conversation.
4. Photos of you with an ex cropped out. Screams "I'm so angry at the past and I'm going to slash your tires when we break up after our 3rd date."
5. Talking about how your pets are your children. This will likely turn off men who are serious about finding 'the one' and having actual, human children. Men who DO approach this will be like "cool, easy target."
6. Talking about shopping being your favorite sport. Generally healthy people are attractive to other generally healthy people. Mention you like going to the gym, hiking, yoga, whatever– but shopping cannot be deemed a sport in your dating profile. Don't be that girl.
7. Don't mention your parents. There's no reason for it before an actual meeting. You're either being immature, too emotional, or a braggart. No exceptions. Even if you work for the family biz, just be like "I work in management at a restaurant, I love it."
8. Don't insult people, things, or teams. There's no reason for it.
9. Don't post pouty or duckfaced photos. Seriously, just smile. Life is good, make people on the other end of the internet think you're the kind of person capable of enjoying life. If you're not smiling, you will not look cute, sexy, approachable, or fun.
10. Don't overthink it. You don't need to post Ralph Waldo Emerson quotes even if they touch your soul deeply. You don't need to turn the interests section into a haiku.