Audrey Hepburn's makeup from Breakfast at Tiffany's was flawless. Here's how you can DIY:
This week marks the 55th anniversary of Breakfast at Tiffany's. The film stars the one and only Audrey Hepburn sporting a makeup look so classic that people have been wearing it ever since. When you pair Audrey Hepburn's makeup with a big updo, baby bangs, and a chic black dress you have an instant Halloween costume, or style this makeup look with your normal work wear for a subtle retro twist. It's gorgeous, timeless, and pretty easy to do.
If you're going whole hog with Audrey Hepburn's makeuo look, you'll need to do your hair to match. To achieve the big poofy updo, all you will need is a hair tie and a couple of bobby pins. Arrange your hair into a high ponytail all the way on the top of your head. When you're securing it with the hair tie, do one normal wrap around and on the second hair tie twist, only pull your hair half way through. This will essentially fold your ponytail in half. Flip the fold over so it is sitting flat and pin down. Use the rest of the ponytail to wrap around and cover the hair tie. You don't need the baby bangs for this look, and if you have regular bangs just brush them to the sides to create a side part.
READ MORE: The Best Makeup Stores on Etsy to Check Out Now
To start off this makeup look apply your foundation and concealer as you would normally. Bronzing and major contouring wasn't really a thing for Audrey (or anyone, really) in the early 60s, so after foundation all you've got to liven up your face is blush. Choose a light pink or light peach shade, we like this one by Votre Vu, and apply from the apples of your cheeks upwards and blending over your cheekbones. The lipstick for this look is also a light peachy pink shade, I first used a nude lipstick to tone down my natural lip color and applied the Clarins Joli Rouge Lipstick in #25 Rose Blossom on top.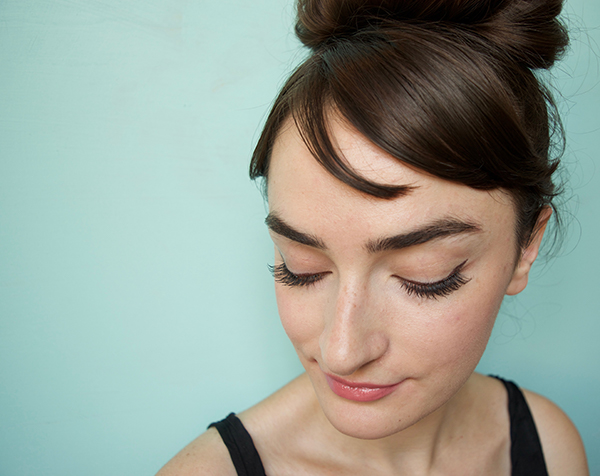 Now let's talk about eye makeup because it's the key to this look. Start by using a matte eyeshadow, like one of these stick formula shades by all-natural Vapour Beauty, near to the color of your skin to act as a base and to keep any oily eyelids from smudging your liner. If you don't have much of a defined socket line, use a light gray shadow and a big fluffy eyeshadow brush to fake it. For liner choose a brown or black liquid liner (I used a gel-style liner) and create a thin line from inner corner to outer edge of your lash line. Slowly add more liner to thicken the line and add a short kitten flick.
READ MORE: If you love eyeliner, this lower smokey eye look will make your heart flutter.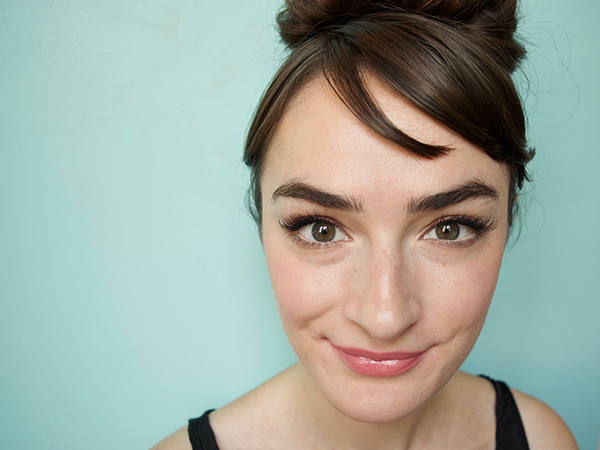 Finishing touches on the eyes are a nude colored liner in the waterline, mascara and false lashes. You can apply individual lashes just at the outer corners of your lashes or use a half strip of lashes to accentuate the cat eye look. You'll want to keep the eyebrows quite natural looking, this was finally the end of the era of Audrey's big blocky brows. I just brushed mine through with a tinted brow gel, like this one by Rimmel, but if you need to add a bit more to your brows, go for a brow powder the same shade as your brows to just one or two shades darker.
With Audrey Hepburn's makeup look in your beauty wheelhouse you too can dress up as a classy is she/isn't she New York sophisticated lady type. It's timeless, and frankly, goes either way.
Love this article? For more beauty, style, travel, and trending topics check out The Luxury Spot on Facebook. Like us and we'll love you back!