When the temperature is below frigid, preparing for the day while staying chic is easy, peasy, with these essentials.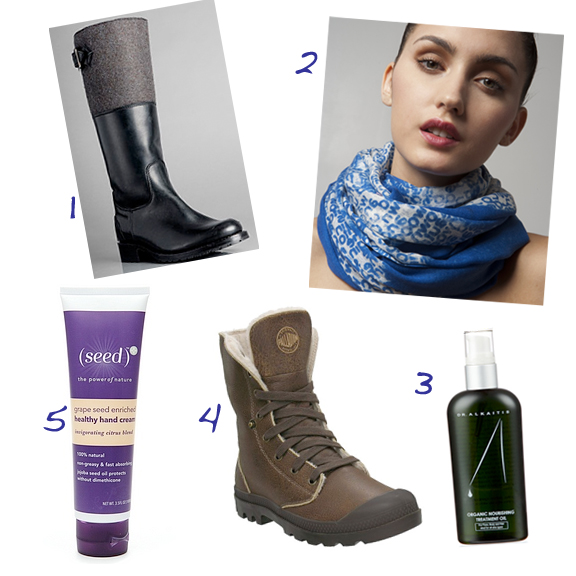 Koolaburra Amy Riding Boot: With most styles channeling the look of that boot that sheepskin boot everyone loves to hate, the Koolaburra line, a huge fav of Megan Fox, is the go-to cold weather boot for trapsing to run errands, or for a snowy commute. The riding boot, a classic in all boot circles, makes my heart skip a beat. $649 [shop]
YARNZ Scarf: Whether you're bundled in some sort of Iditerod parka, or a chic full-length vintage piece, the  scarf will eternally be the icing on the outerwear cake. And a cashmere scarf, would equate to sheer, mouth watering joy.  YARNZ collects the finest cashmeres to create an unpretentious take on the classic – and we're diggin' it. Hardcore.  $170 – $200 [shop]
Palladium Baggy Leather S : If you're less of a classico, and more of a hipster-o, the Palladium boot is right up your alley. Functional designs that won't break the bank – these retro styles are coming back in a major way. Wear 'em for a day of shopping, or to brave the Sunday evening ice storm for drinks at your local watering hole.  $110 [shop]
Dr. Alkaitis Organic Nourising Oil: If you can't get to the Tribeca Beauty Spa to find yourself pampered by their staff of expertly trained estheticians to treat yourself to Dr. Alkaitis' personalized organic facial, at the very least, pick up his travel pack to test out the latest and greatest in at-home dry winter skin rejuvenation. His motto? If you can't eat it – don't put it on your skin. Note to Dr. Alkaitis: If you stop making this nourishing oil, I will surely go into a state of panic & emotional turmoil. Please spare me, and keep doin' what you're doin'. You do it well. $60 [shop]
(SEED) Healthy Hand Cream: It's winter. Hands will get dry. Yes, many say any ol' hand cream will do – but one that smells of citrus, contains 100% naurual ingredients, and creates a serious jojoba oil barrier without making me feel like my hands are covered in goop? That's what I'm talkin' about. $6.99 [
Disclosure: All products were provided for review. No monetary compensation was received for this review. All opinions belong to the author.