My skin care routine has always been a bit of a jigsaw puzzle.  I would buy a cleanser that I read was terrific, pick up a moisturizer that was on sale, try a night cream recommended by a friends… But I would never purchase a full skin care line. But then a friend bought me ROC Multi Correxion Skin Perfecting System.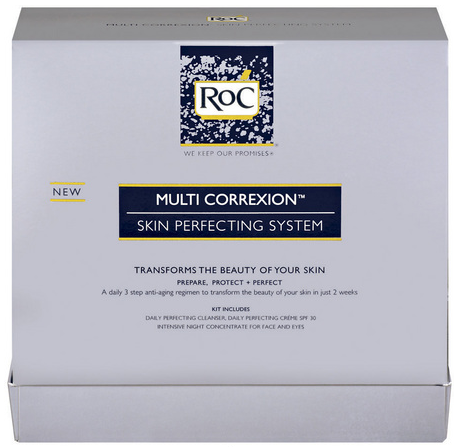 The box promises to transform your skin in two weeks—but honestly I saw results instantly!
The cleanser is thorough, but gentle and left my skin feeling really fresh. The perfecting crème with SPF 30 went on feeling a bit oily, and tingly.  I was concerned because I thought the tingling might make my sensitive skin a little red.But within five minutes the oil was completely absorbed, the tingle was gone and I was left with FLAWLESS looking, silky soft skin. So flawless that the first few times I used it I couldn't even bear to put makeup over it.  The finish looked better than foundation! The set also comes with a luxurious night crème that feels absolutely delish!
I'm finished with week one, already really impressed, and looking forward to seeing the difference in week two.
Disclosure: All products were provided for review. No monetary compensation was received for this review. All opinions belong to the author.