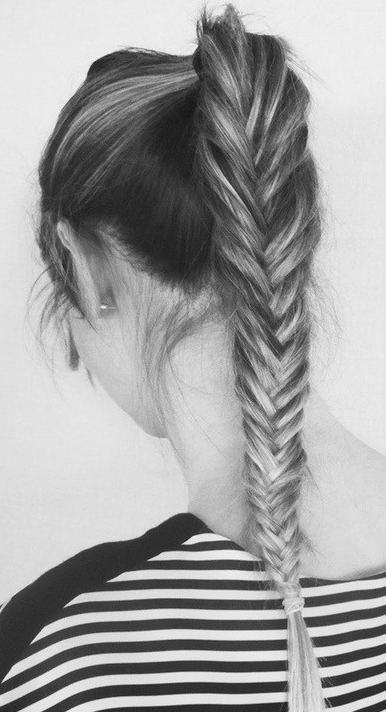 In my opinion this is the best back-to-school, summer-to-fall transitional hairstyle. Let me elaborate: this classic, chic hair-do is not only gorgeous to look at, but it also holds your hair in place and keeps it off your face so you don't have to be fussing with it all day.
Yes, there are fifteen steps but come on, look at that beautiful braid, it will be so worth it.
Brush your hair tangle free.
Bring your hair forward then back and hold it with your left hand (reverse if your dominant hand is the left side). By bringing your hair forward you are allowing your hair to grab some gravity from roots to tip.
Brush your hair evenly from the hairline to the base of the ponytail.
Spray some hairspray into you brush so as you are brushing any flyaway's can get tamed.
Tie your hair up with your hair tie.
Adjust height of ponytail, if necessary.
Find a medium size strand of hair (about 2 inches wide) from the bottom of your ponytail and clip it down with a bobby pin.
Part the rest of your ponytail into two even parts. Take a small piece of hair from the bottom right section and cross it all the way over the center to the left side.
Repeat this same step for the left side. Remember to always grab the strands of hairs you will be crossing from the bottom of each section. Continue to switch sides after crossing the strands of hair over the center. Alternating sides is a very important step. Once all of your hair is braided tie the ends with and hair tie.
This step is optional: if you feel like your braid is too tight try pulling gently from the center of the strands towards the outside of the braid.
Once the braid is done you unclip the strand you put away at the beginning and bring it around your hair tie. This way you are hiding your hair tie with your own hair.
Once the strand of hair has gone all around the hair tie bobby pin the ends under your ponytail. You have the choice of bringing your head forward so you a have better grip or doing it normal.
Cross your bobby pin with another one to secure tightly. The heads of the bobby pins should be facing your scalp.
Pin around the entire base of your ponytail.
Finish up with a few spritzes of hairspray for a firm hold.
[
via
]