This weekend, I'm celebrating our country's independence, and my single lady indepencene ( aka the independence to each as many veggie burgers as I want,  hook up with strange men, etc). I've prepared hard for this, so here's what I'm keeping in my arsenal to keep my bod, and bbq's on point:
My face is clear, a perfect face of freckles ( sans other unsightly spots) thanks to LUSH. Their line of acne products helps me to keep my combo-skin under control, while preventing and clearing any kind of breakout I encounter. Since I've been using the Dark Angels Facial Cleanser... these breakouts have not occurred. I'm for serious ( avail by weight: $11.95 per 1/4 lb).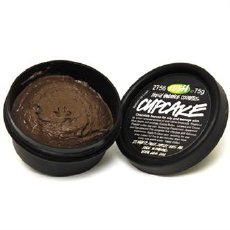 Perhaps a little blemish here or there, but nothing to wear a SARS mask, and call home to mom, about. I'm cool without going out without makeup, which is something I CAN call home to mom about.  I've been going hard, in conjunction with the fresh CUPCAKE mask (pictured above available in all LUSH locations : $7.95). These masks aren't avail online…they have to be refrigerated…so LUSH wants to make sure you get the freshest mask you can get! I smooth this on every couple of days, I've notice my pores squeeze down to virtually nothing.  Then, with miracle spot treatment  Grease Lightening ($9.95) in my bathroom cabinet,  my oily spots have become non-oily, and any blemishes that pop up are no contest.
And my everywhere ELSE is clear too…thanks to The Cool Fix.  No self respecting lady can go to the beach to celebrate our country's independence with ingrown hairs!  After sugaring at Shobha – TheLuxurySpot's go-to-spot for threading and such, I've been using Shaveworks: The Cool Fix to keep everything in order, and ingrowns out of order. Paraben-free, and instantly moisturizing, this stuff contains all of the good stuff. Glycolic Acid, Salicylic & Pyitic Acid, in a thicker formula- nixing the need for cotton balls and such. PLUS- a percentage of the proceeds of Shaveworks : The Cool Fix will be donates to The Leukemia & Lymphoma Society.
Visit MyShobha.com for locations and information on their OWN aftercare products.
Lush products available at Lush.com
The Cool Fix available exclusively at Sephora.com
And now that my skin is clear and clean, I'm ready to be TAN! Thanks to the lovely ladies at St. Tropez. Our Stephanie is a huge fan of this stuff, and has gotten me completely hooked!   Sophie from the UK St. Tropez salon crew, took a jaunt over to NYC to  spray-kissed my skin with some sun, and I love her for this. My chances for finding a husband this weekend have skyrocketed!  But I'm making sure to maintain my tan with the Optimiser Body Butter & Shower Cream, to keep me at the top of my tanning game.  For your at-home-tanning-purposes, I suggest this:
This kit includes : 4oz Whipped Bronze Mousse – 4oz Body Polisher – 4oz Body Moisturizer for $43.  A perfect way to get your pasty self acquainted with the bronze-life!  Check out the rest of their products online at St-Tropez.com or if you're taking a jaunt across the pond, visit one of their salons where they will personally spray you down, and get you bronzed one-on-one.
At all the bbq's and parties I'm attending, I won't smell like baby-back ribs.  I'll be attracting men due to my scent of  cookies and grapefruit. Thanks to Feed Your Soul and Origins!
I've always been a sucker for Origins products. Their scents are so sharp and distinct, and they last throughout any sort of day you could have.  Their new Gloomaway line is no different. It's  just the citrusy pick-up a lady needs in the morning, during work to substitute that 6th cup of coffee, after work befor happy hour, or ANY TIME during the holiday weekend to keep yourself going.  I recommend throwing the Grapefruit Gloomaway body mist in your desk drawer, or your beach bag for this weekend's festivities!
Available at Origins.com
If you smell grapefruit  and cookies anywhere in NYC, it's probably me, around the corner… eating  Feed Your Soul cookies. They're are the only cookies I've ever actually felt GOOD about eating! These all natural oven fresh cookies, available in a variety of unique and traditional flavors. They also include inspirational quotation and personalized card message, while a portion of net proceeds from every purchase is donated to the customer's charity choice! I'll be carrying around the variety tin to make sure everyone is taken care of. The tin ensures all scents are locked in until unleashed at my select bbq event. I'll be like the cookie fairy, wafting scents of snickerdoodle and cookies of nutty chunks your way.  Flavors include: chocolate chip graham, honey oatmeal raisin, white chocolate snickerdoodle, nutty peanut butter oatmeal chocolate chunk, chocolate chip mint, key lime, shortbread.  Worth every penny.
Available at FeedYourSoulCookies.com
Disclosure: All products were provided for review. No monetary compensation was received for this review. All opinions belong to the author.