I'm sick of everything smelling the same. It's floral, it's fruity, it's who the F cares. I've smelled 8,000 fragrances in my life with notes of gardenia, grapefruit, and bullshit. However, I didn't even have to open the bottle of "Delicious Chocolat," the new fragrance by Gale Hayman, to know that there is an entirely new frontier of olfactory stimuli waiting to introduce itself to me. The bottle itself is, well, a masterpiece of divine artisanship: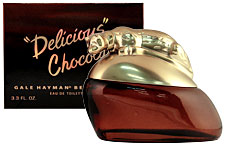 The crouching feline that serves as the cap perches above the bottle like some sort of perfume deity on a scented mount Olympus. But what really stands out about this feline is its relevance to a chocolate-scented fragrance. Their mutual exclusivity is what, I believe, drives home the fabulosity of this product. But, it also smells intriguing. If you close your eyes and take a deep whiff, you might feel as if you're wandering through a damp forest wet with early morning dew, but the shrubbery is made of chocolate, and also you're hungry. Anyway, to borrow a phrase from a personal favorite film: You can take a good look at a T-bone by sticking your head up a bull's ass, but wouldn't you rather take the butcher's word for it? Buy some "Delicious Chocolat" today and you'll have everyone within a 5 foot radius thinking you're a secret fat kid with a penchant for hoarding sweets.
Please visit www.GaleHayman.com for more information.
Disclosure: All products were provided for review. No monetary compensation was received for this review. All opinions belong to the author.