Everything you need to know about lipstick storage
Although we can't all have an entire room dedicated to our love of makeup, we can take lipstick storage a little more seriously. Lipsticks (even the best liquid matte lipsticks!) are particularly prone to getting dirty, potentially leaking, and literally melting. Avoid that mess with our lipstick storage tips.
This hot mess is not ideal lipstick storage. Tossed together in a drawer/basket/bowl of some sort is no way for lipstick to live. Not only is it difficult to find things but liquid products can leak if not properly capped and stored sideways. No dice here.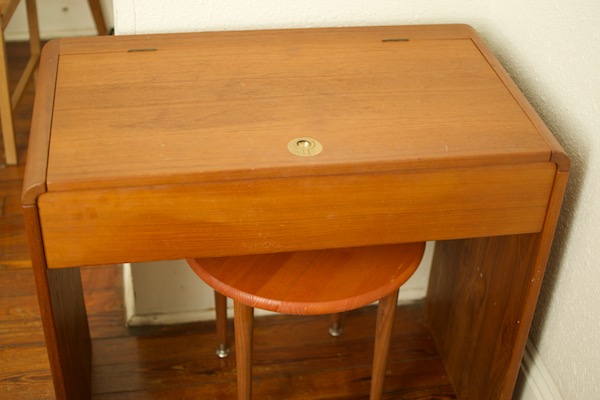 We suggest to keep your lipstick storage out of the sun in a cool, dry location like the inside of a vanity!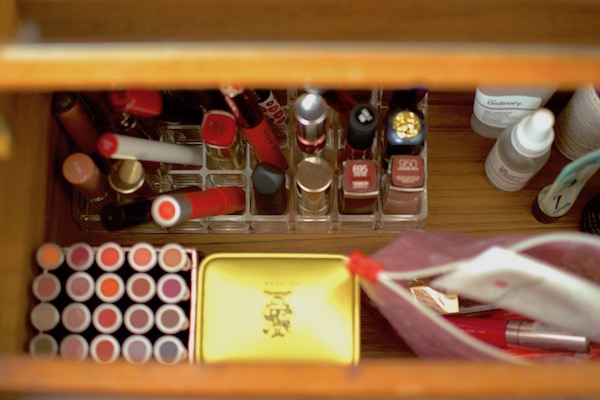 We're sure you know, if you live in a hot location lipsticks can melt. It's the worst. But lipstick can also grow bacteria if it's stored someplace warm and humid like your bathroom. You should basically never store lipstick (or any makeup) right next to your shower unless you're into mold. GASP.
We prefer to store lipsticks in lucite or acrylic containers. This lets you keep the lipsticks upright at all times avoiding leakage. Plus it lets you see everything easily!
Storing lip balms or other designated categories of lip product in their own containers makes your life a lot easier. No need to go rooting through your handbag to find that one lip balm if they're all in one place.
Every lipstick lover should have two things on hand, lip brushes as well as cotton buds (ours are stored in this old tea container!). The cotton buds are perfect for cleaning up messes outside the lip line. Lip brushes on the other hand can be used to apply lipsticks and to get a perfectly clean line.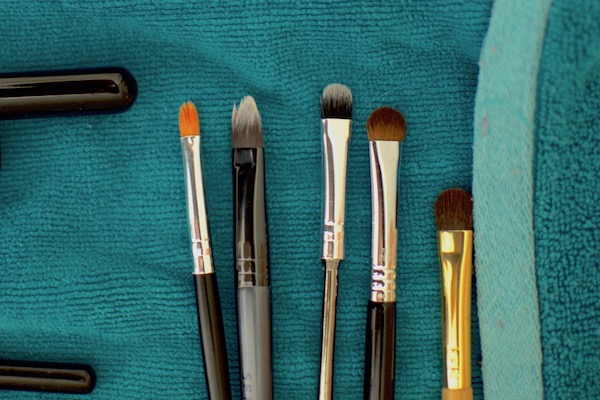 Assuming you, like everyone else in the world, does not want to be like #staphgirl who infected her face via unwashed makeup brushes, you should wash your lip brushes at least once a week. Bare minimum. Besides the fact that you don't want to mix colors on lip brushes, you also don't want to irritate (or infect) your skin. Wash. Your. Brushes. Seriously. (If you don't believe in microbes, you need to read what this scientist has to say about how often you should wash your sheets, too.)
If you need a split second color change, opt for a little brush cleaner along with micellar water and a cotton pad. You can get the bulk of the lipstick off and have a clean brush for the next lipstick — even your most daring black lipstick.
You can also sanitize both brushes and lipsticks with rubbing alcohol. This is super important if you have a vast lipstick collection (that you can't use up quick enough) or if you share lipsticks. A little rubbing alcohol in a spray bottle can sanitize lipstick bullets. Simply spray and let dry to sanitize.
If you plan on sharing liquid lipsticks, please buy disposable doe foot applicators (like the ones in jars around Sephora). This way you won't get your roomie's cold sore.
We're going to end on a sad note. Lipsticks don't last forever. As much as you may want them to! Not only do lipsticks expire, but they can easily harbor bacteria that you don't want around your face. Lipsticks, when cleaned regularly, can last about two years. Anything with a doe foot (lip glosses, liquid lipsticks, etc) last more like one year.
We know you'll always want more time with your favorite shades but bacteria doesn't always play that game. To get the longest life be sure to sanitize often, also keep your lippies to yourself.
Love this article? For more beauty, style, travel, and trending topics check out The Luxury Spot on Facebook. Like us and we'll love you back!