Lufthansa Premium Economy seats launch on all long-range flights, globally.
Lufthansa's biggest 2016 launch so far is the addition of premium economy seats being available on all long-range flights globally. The premium economy seats will feature amenities including enlarged TV/monitor screens, better food options, and extra wide spaces between seats. More space, as any avid traveler knows, is the best part of the play to appeal to the frequent business traveler. This competitive move comes as no surprise as a variety of European air carriers are scrambling to compete for the well-heeled customer that aims to save money when possible.
Lufthansa increased the spacing between seats more than 50%, a which basically equates to cutting out the skinny guy next to you and loaded each seat with power outlets and USB connections so phones, computers, and whatever other technology passengers tend to love enough to bring with them never bleeds dry.
Benefits passengers in Premium Economy
50% more space compared with economy class
New seats with big margins between them (97 cm between the seat of the seat in front)
Comfort kit and a personal water bottle per passenger seat
Ordering food via a dedicated menu
Drink reception with boarding
Modern entertainment system including games
Personal remote control for each passenger entertainment system
2 free checked bags, up to 23kg each
Special discounts for excess baggage
Power connection at any point seat (this is the best feature yet, #amirite?)
Access to the business lounge for an additional fee
Wider screen -11/12 inch vs 9 in coach
More spacious storage compartments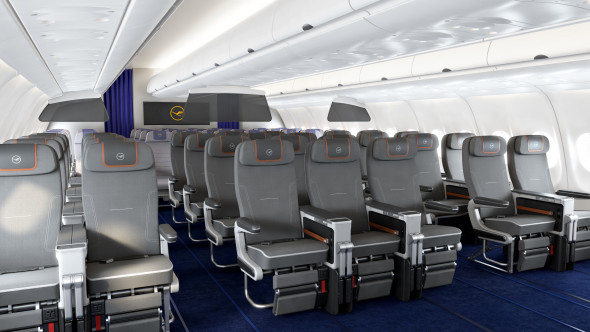 Sample prices for Lufthansa Premium Economy seats from Tel Aviv Ben Gurion Airport as a starting point:
Beijing starting from $1,599
Shanghai starting at $1,599
Hong Kong starting from $1,599
Bangkok starting from $1,599
Rio de Janeiro starting at $1,649
Cape Town starting at $1,449
Johannesburg starting at $1,449
New Delhi starting at $1,449
Mumbai starting at $1,449
Tokyo starting at $1,799
Singapore starting from $1,799